Philip Hammond also reveals funds for affordable houses and a consultation on a PFI replacement in his Spring Statement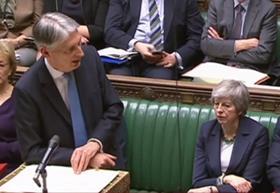 Chancellor Philip Hammond said the government is going to take action on late payment as he unveiled a range of policies in the Spring Statement yesterday afternoon.
His pledge follows a consultation on payment terms by the government, with the business committee having already called for firms to pay their suppliers within 30 days – up to 20 days faster than the average time taken by contractors such as Kier and Balfour Beatty.
Hammond (pictured) said the government would shortly provide a full response to the consultation but revealed one policy would require large companies' audit committees to review payment terms and report on them in company accounts.
The chancellor also announced a £3bn affordable homes guarantee scheme, which he said would lead to the delivery of 30,000 new affordable homes across the country.
And he confirmed £717m from the Housing Infrastructure Fund would go towards building 37,000 new homes in west London, Cheshire, Didcot and Cambridge.
Richard Steer, chairman of Gleeds, said: "[Hammond's] fund to increase the building of affordable homes is laudable but his party's decision to bar EU workers from working in the UK post-Brexit will mean reaching his 30,000 new homes target will be hard to achieve [due to] a reduced skilled labour force."
The chief executive of the Federation of Master Builders, Brian Berry, added: "The chancellor claimed to support housing delivery but actions speak louder than words and the burdensome and poorly thought-through biodiversity targets for developers will bring yet more costs and more delays for builders."
Hammond also launched a consultation to find new ways of funding infrastructure projects following his decision to axe PFI contracts last year because he said they do not deliver value for money.
The government is already looking into whether a regulated asset base model, which is being used for Thames Tideway super-sewar, could be used for the development of nuclear power plants – with a formal answer due to be announced by the end of summer.
The chancellor has previously said he expects half of the UK's £600bn infrastructure pipeline to be financed from the private sector.
Responding to the launch, Jason Millett, Mace's chief operating officer for consultancy, said: "It's right that the private sector should contribute but we need to be certain that whatever the new model is, it encourages sustainable, long term growth and doesn't undermine an industry that already faces serious challenges around margins and risk management."