Remedial work to finish this summer as steelwork firm sees 2016 profits bounce back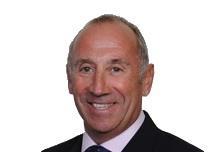 Severfield expects to finish its work replacing nearly 4,000 bolts on the Cheesegrater later this summer.
The steelwork contractor began the task last year after two steel bolts broke at the City of London building – known as 122 Leadenhall Street – in late 2014. The work has cost the firm £6m which it booked last year and helped send its 2015 profits into the red.
But chief executive Ian Lawson (pictured) said just around 90 replacement bolts are left to be fitted, bringing to an end nearly 18 months of remedial work.
The firm said it was still in discussions with main contractor Laing O'Rourke and engineer Arup "to determine where the liability for the total remedial works should rest" but Lawson added: "I don't think it will go to court. We are having amicable discussions with everybody."
Severfield's latest results saw the firm put the Cheesegrater problems behind it – the loss-making contract was one of the reasons behind 2013's rights issue to rescue the company – as pre-tax profit bounced back from a £191,000 loss last time to a £9.6m profit for the year to March 2016. Revenue was up 19% to £239m.
Lawson said it had learnt lessons and the firm was now better able to manage risk properly which had enabled it to work on more than 120 projects during the past year – including the scheme rebuild Liverpool's Anfield football stadium and a new Crossrail train depot at Old Oak Common in west London.
"[That figure] is easy to manage provided you've got good people and processes," Lawson added.
He said he was "delighted" that private investor Greybull had rescued Tata's steelworks at Scunthorpe back in the spring. "We buy a considerable amount from there, virtually all of our 70,000 tonnes of section steel."
The figure accounts for 70% of its entire steel purchases but Lawson said it had switched to European suppliers for its plate steel following Tata's decision to pull out of mills in Lanarkshire.
The firm added another 100 staff to its 1,300 strong payroll and Lawson said it had largely been unaffected by next week's referendum on the EU. He said the firm was "pretty neutral" about it but admitted he had concerns a vote to leave could see the country slide back to more belt-tightening.
"It's a great shame, given where the country is. The timing is not great, when we're coming out of a period of austerity we don't want to be going back."
Severfield's Indian business, which it operates as a joint venture out of a base near Bangalore in the south of the country, stabilised with the firm's share of losses hit £300,000, a fraction up on the £200,000 last time. Lawson said the business was looking at expanding its operation out of India and into the wider Indian sub-continent.