Premier League club's plan for £500m new stadium threatened by endangered animals
Restricted lighting, noise-muffling hoardings and site talks for builders on what to do if they encounter bats are among the measures being proposed by Chelsea football club to protect the area's endangered mammals when it begins work on its new 60,000-seat ground next year.
The Premier League club, owned by Russian billionaire Roman Abramovich, wants to start work next July and complete the £500m ground, designed by Herzog & de Meuron, four years later in summer 2021 with peak construction slated for autumn 2018.
But its timetable is being threatened by concerns about the effect of building work on bat hibernation and the nearby grade I-listed Brompton Cemetery.
Planners at Hammersmith and Fulham Council wrote to the club earlier this summer complaining that its environmental statement was "inconclusive" about the impact of piling works on the cemetery's catacombs – identified as a potential hibernation roost for bats.
Now, under new plans sent in by the club's strategic planner on the scheme, Aecom, any lighting needed for the construction will be "hooded" to minimise effects on the bat population.
It adds: "Lighting during construction is to be minimised at the site compound(s) and in the works area in order to avoid affecting bats and birds. If lighting is required, it is to be low level and hooded and not shine on to vegetation.
"Any lighting required for construction would be hooded to avoid any spillage to natural habitat. Lighting during construction will not be directed at natural habitats and will not spill onto adjacent habitats particularly the nearby Brompton Cemetery."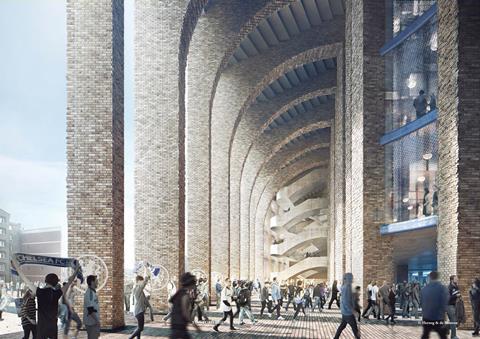 A number of decking platforms need to be built over nearby Tube and railway lines and the statement adds: "Temporary acoustic hoarding will be installed during the [railway] decking platform installation in order to reduce noise and light spillage."
And site workers will also be given tool box talks "prior to demolition works, in order to ensure that they are aware of the action to be undertaken in the highly unlikely event that bats are discovered during the demolition works".
The football club first lodged its planning application last November but was asked by the council to come up with more detail surrounding the construction work – such as the impact of road closures as well as measures to mitigate noise, vibration and dust for local residents and businesses.
The club's current capacity at its Stamford Bridge ground is 41,600 with Swiss practice Herzog & de Meuron coming up with a brick-clad design that is expected to use six million bricks during construction.