Well-placed source claims representatives of China's nuclear industry took the latest delay badly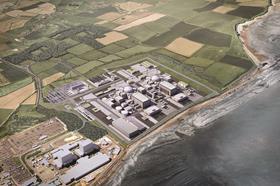 Chinese investors in Hinkley Point C "feel they've had two fingers stuck up to them" by the UK government, a source close to the project has told Building.
A celebratory event was planned last Friday at the Hinkley site in Somerset after the project was given the go-ahead by EDF the night before, minutes before the government's decision to review the scheme.
Executives from China's nuclear industry including China General Nuclear – which has a 33.5% stake in the project – were due to attend the event.
The source said: "EDF took big names in China's nuclear industry to the UK for this announcement. Now the Chinese feel they've had two fingers stuck up to them by our government. They feel like they're in the firing line."
However, the source insisted the Chinese were still committed to Hinkley, which was echoed by world-renowned nuclear expert Mycle Schneider.
Schneider, who has advised the German, French and UK governments on nuclear policy, said: "The Chinese have the cash and the others don't, and only China has a vibrant nuclear sector. They still take this project very seriously."