Chinese state-owned Greenland Group buys Wandsworth and Canary Wharf sites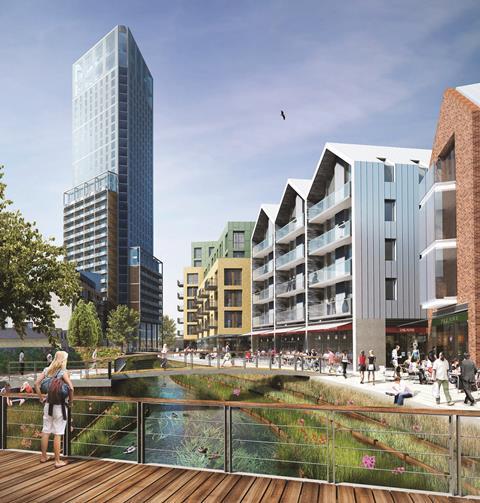 Chinese state-owned developer Greenland Group is planning to build two London skyscrapers after spending £1.2bn on development sites in Wandsworth and Canary Wharf.
Greenland has bought the 7.75 acre Ram Brewery site in Wandsworth town centre for £600m from developer Minerva and a further site in Canary Wharf where it plans to build London's tallest luxury residential housing project.
The acquisitions are Greenland's first in Europe. The developer is one of the largest in the world, with around 600 million sq ft of commercial and residential projects currently under construction in 80 cities throughout China, as well as real estate projects in Jeju in South Korea, Pattaya in Thailand, Sydney and Melbourne in Australia and New York and Los Angeles in the USA.
The Wandsworth site has outline planning permission for a 36-storey tower incorporating 166 flats and 9,500 sqm of commercial space for new shops, cafes, bars and restaurants, alongside 661 new homes and restoring some of the historic brewery buildings.
At Canary Wharf Greenland plans to build a 98,000 sq m residential scheme, according to reports.
Minerva was acquired by clients of Ares Management and Delancey in 2011.
Paul Goswell, managing director of Delancey, said: "Since acquiring Minerva two years ago, we have worked hard to comprehensively redesign the original scheme which culminated in planning consent being secured last December.
"Our strategy had been to implement the scheme ourselves, possibly with a partner, but that changed when Greenland made their unsolicited proposal."
Zhang Yuliang, chairman and president of Greenland Group said: "London is the global financial centre as well as the most open and diversified city that enjoys the most mature economic development, making it the first option for our investment in Europe.
"There have been more and more individual investors who favour UK market, thanks to the stable return on asset, high quality assets and sound market liquidity."