The Chinese marine engineering contractor has won the largest contract to date on the £1bn project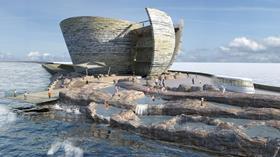 Swansea Bay Tidal Lagoon has awarded its largest contract so far to a Chinese bidder.
The China Harbour Engineering Company Ltd (CHEC) has won a £300m contract to provide marine works on the £1bn project.
CHEC has committed to half of the contract value being spent on a British workforce and supply chain, and it's hoped that the marine engineering contractor's involvement will kick-start Chinese investment into UK infrastructure.
As part of the deal, CHEC has signed an agreement with the project's developer Tidal Lagoon Power to develop similar projects in Asia, particularly along China's vast coastline.
Lin Yi Chong, president & CEO at CHEC, said: "CHEC has taken the strategic decision to enter the UK infrastructure investment and construction market, and we see the Swansea Bay Tidal Lagoon, a pioneering scheme that could bring the world a new energy option, as the cornerstone project in our business development strategy in the UK and wider Europe.
"We have not invested directly into the Swansea Bay project but we made a proposal to do so and will seek opportunities to invest in similar projects in the UK and Europe.
"We will seek to grow our UK presence through significant investment into a subsidiary business and through a programme of UK infrastructure investment and construction."
Mark Shorrock, chief executive of Tidal Lagoon Power, said: "I have worked in China, speak Chinese and have huge esteem for China's delivery capability and ability to deliver projects to time and budget.
"Having encouraged CHEC to bid this job and invest in Western European infrastructure projects by creating a British base, I was delighted, following an intensive competition, when my engineering colleagues recommended CHEC for our seminal Swansea Bay project."
Local contractor Alun Griffiths won a £25m civils deal earlier this week, while Laing O'Rourke won a £200m civils and construction contract on the project last month.