Consultant to partner with world's largest railway company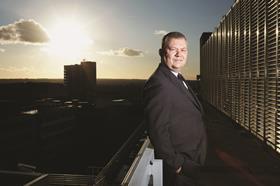 Chancellor George Osborne has announced engineering consultant Mott MacDonald has launched a partnership with Chinese railway company China Rail Construction Corporation.
Speaking to investors at an event in Chengdu as part of a UK trade mission to China, Osborne announced staff from the Chinese company will be seconded to Mott MacDonald's Manchester office to work on infrastructure opportunities in the north.
The China Rail Construction Corporation (CRCC) is the world's second largest construction and engineering company by revenue, posting revenue of £61bn in its full-year results for 2014. Mott MacDonald is one of the world's largest independent engineers and is chaired by Keith Howells (pictured).
The news comes after the chancellor unveiled his "Northern Pitchbook", which sets out to investors the £24bn worth of opportunities that are available to invest in the Northern Powerhouse.
Among the projects in the pitchbook are infrastructure and regen schemes such as the Atlantic Gateway – a series of projects connecting the Port of Liverpool to the City of Manchester; and Science Central, a city-centre development in Newcastle.
Osborne said: "From Liverpool to Newcastle, we are opening up our doors to investment that will not only help us to grow and create jobs, but will allow us to build infrastructure to rival any region in the world."
Communities secretary Greg Clark said: "Today's Pitchbook sets out in black and white to Chinese investors over £24 billion worth of exciting investment opportunities, which together will deliver key infrastructure projects, help develop a highly skilled workforce and create thousands of jobs."