Firm puts disappointing 2014 behind it as numbers for 2015 head north
David Chipperfield Architects made good on its promise of a better 2015 with the firm seeing its pre-tax profits rise more than threefold and staff numbers head north again.
The firm had posted a disappointing set of results for 2014 with pre-tax profits slumping by more than half and staff numbers dropping.
But at the time of those results, director Louise Dier predicted better times ahead and in its results for the year to December 2015 the firm saw pre-tax profits climb back from £167,000 to £598,000 on revenue up close to £1 million at £8.1 million.
In a directors' statement accompanying its latest report and accounts, Dier said: "2015 was a strong and positive year which was focussed on delivery of excellence. The projects won in 2014 and early 2015 are now going through early stages and the push to win new work is focussed on projects that fit well with our profile."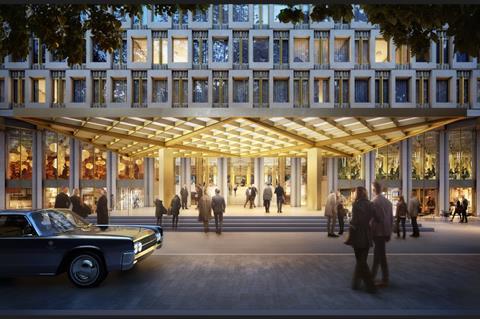 Staff numbers were up 9% and Dier said she "expected the 2016 number to also show a comparable trend" and added: "Turnover, profit and cash position are all significantly better than 2014." Dier said the firm's 2016 order book "remained strong".
Work in the UK remained flat at £4.9 million but Chipperfield's work in the US, where it is working on a new wing for New York's Metropolitan Museum of Art, went up 42% to £2.5 million while revenue at its Europe and Middle East arm went up 45% to £638,000.
The firm repeated that it would only run the rule over competitions it thought it could win. "Competitions are costly," Dier admitted, "and will not always be successful. The directors are diligent in only embarking on competitions selected according to clear criteria and only a certain number per year."
The salary of the highest paid director, who is not named, was nearly £137,000.
Among the schemes, Chipperfield is currently working on is a 32-storey residential tower in Manhattan, a scheme to turn the US embassy in London's Grosvenor Square into a luxury hotel with restaurants and shops (pictured) and a new Nobel Centre in the middle of Stockholm.