Training group spells out restructuring plan in three year business plan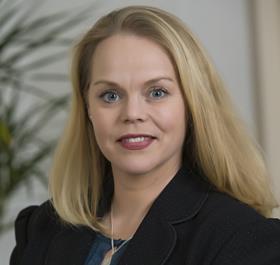 The Construction Industry Training Board is getting rid of more than 800 staff over the next three years as part of a major restructuring initiative called Vision 2020.
The news means 60% of its current workforce will be gone with the training group three weeks into a 45 day consultation with its 1,370 staff and unions Unite and GMB. This is expected to wrap up by the middle of next month.
A business plan unveiled today shows that more than 400 jobs will go by next year with the group taking the axe to another 360 jobs over the following two years which will see running costs cut from £155m in the current financial year to just over £110m by 2020/21.
Chief executive Sarah Beale (pictured) said she was hoping staff would be transferred across to new employers as the CITB sells off unwanted parts of the business but admitted there would be some redundancies.
The CITB is moving into one office in Scotland – where it has two locations in Glasgow and Inverness – and a smaller office in Wales, where it is swapping a site in Bridgend for nearby Swansea. It will also move out of its London office near the Barbican to a new location in the capital with the numbers working there shrinking from 50 to just a dozen.
Beale said it was working with the Department for Education about working out of a number of its offices to save costs.
She also underlined that it will be moving out of its historic Bircham Newton home, where close to 600 people work, by early 2020 and had already begun talking to rival training providers about taking over facilities there.
She added that the CITB was using only around a quarter of the 390 acre site in Norfolk for training, adding that the remainder could be sold off for housing or commercial use.
She said: "It's a huge site that is massively under-utilised. We are committed that a training provider comes there and a number of people have approached us."
It is planning to move its head office to Peterborough and has already begun touring potential sites in the city with the help of the council.
The CITB will announce this autumn who has taken over the contract to look after its back office functions such as HR and finance and in June begins the sell-off of its training facilities which includes sites at Birmingham, Glasgow and Erith in south-east London. Its plant skills card scheme is already up for sale.
Beale said the three year business plan had been "based around the feedback from the industry. We have given enough detail for people to hold us to account. We've heard very clearly from the industry that we have to change."
Under the plan, the CITB plans to spend more than £600m on training and investment over the next three years which it said it will measure against a series of milestones.
Last week, the government announced that Whitehall mandarin Peter Lauener is taking over from James Wates as its new chairman at the beginning of next month.
Lauener will begin his new job while still working as the interim boss of the Student Loans Company and Beale said that the situation would carry on until the autumn at least.
The former boss of the Education and Skills Funding Agency and Institute for Apprenticeships is carrying out his CITB role one day a week.
Beale added: "He doesn't have the industry knowledge of James Wates but he has a wealth of experience in other areas that will really benefit us."
Last autumn, the training body was given the backing of industry for another three years in its three year consensus vote – but not before housebuilders and the country's biggest builder Balfour Beatty laid into it.