More than half of workforce could be hit by restructuring plans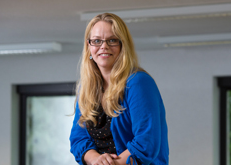 The CITB's restructuring and cost-cutting plans could put up to 750 jobs at risk – more than half of its total workforce, Building has learned.
Plans include outsourcing a number of functions to third parties and moving its head office in Bircham Newton to a new, smaller site in Peterborough. It will also end direct training via the National Construction College.
Speaking to Building, CITB chief executive Sarah Beale (pictured) declined to say how many of its 1,300-strong workforce – 575 of which are employed at its headquarters – would be affected.
But she admitted the root and branch reform would lead to a "much, much smaller organisation" and said further details would be announced early next year.
Sources close to the CITB have told Building that up to 750 staff could be hit by the proposals. This follows the announcement in February 2016 that the CITB was to cut staff numbers by a third as part of its three-year cost-cutting plan.
Beale added it will leave its current headquarters in Norfolk – which it has occupied since 1966 – because it will be too big for the slimmed down team and is currently too expensive to run.
The CITB has not yet found a new home in Peterborough but Beale said its days at Bircham Newton were coming to a close.
"We occupy a 45 acre site in Norfolk but we don't need anywhere near that size," she added. "It is very expensive to operate and in the future we will be a much, much smaller organisation because we will be delivering less.
"We will go to market, see what is available and start consulting with those that are impacted when we have identified those opportunities. We're not quoting exact figures yet but that isn't to say that colleagues currently supplying those services to be outsourced won't be employed by other third parties."
Beale also admitted the reforms were overdue after saying the CITB has been guilty of trying to be a jack of all trades in the past.
"For many years, we have tried to be all things to all people and that has resulted in a huge mixed offering where we have occupied far too many roles in the market place, so the industry and government have asked us to be much simpler to deal with.
"They would have lost belief in us if we hadn't taken on board what they were saying but going forward, we should gain far more confidence from the industry."
As well as stopping delivery of training through the National Construction College, it will also call a halt to administering card schemes such as those for health and safety and people who drive construction plant.