NHBC warns that industry must improve the design and construction of basements to avoid ballooning costs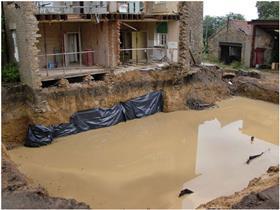 Legal claims as a result of problems with new basements in homes across the UK have cost builders nearly £21m over the past eight years.
Now experts are warning that the industry must improve the design and construction of basements to avoid ballooning costs.
Research by the National House Building Council (NHBC) shows that legal claims by householders as a result of problems with basements have cost firms nearly £21m since 2005 - with the average claim around £24,000.
The figures also show that large loss claims - those costing over £250,000 - have risen from a total of £400,000 in 2010 to £1.5m in 2011 and £1.7m in 2012. When combined with other, smaller claims, the total costs have risen from around £3m in both 2010 and 2011 to £4.8m in 2012.
These figures are expected to rise further as some claims are still ongoing. The vast majority of new basements (72%) are registered in London with 93% registered in England.
The NHBC said changing weather patterns, a growth in the popularity of basements and a push for more sustainable urban drainage meant basements presented an ongoing risk that needs to be better managed.
A survey of 1,700 sites by the NHBC found that tanking defects were the main cause of problems - accounting for 62% of basement claims since 2006. These related mainly to the detailing of joints at ground level, floor level finishes, and openings for services, pipes and cables.
NHBC also found that over a quarter (28%) of sites surveyed reported high or unknown water tables, but still proposed specifications that were not suitable for the site. The majority of the large claims from 2012 were as a result of water ingress and incorrect installation of the damp-proof membrane.
NHBC is now looking to revise its standards and guidance on basements.
Mark Jones, NHBC's group head of housebuilding standards, said the new guidance would "inform the industry and help reduce the risk for homeowners having to endure problematic basements and inconvenience – at a significant financial cost to the sector".