Move follows government's Living with Covid plan
Restrictive construction industry guidelines introduced to contain the spread of coronavirus have been dropped, the Construction Leadership Council (CLC) has announced.
The development came on the same day (1 April) as the government removed its Working Safely during Coronavirus guidance, a move which had been set out as part of its Living with Covid plan.
The CLC confirmed that the government's decision to drop the guidance meant its own advice on site operating procedures and mask wearing were no longer current, though it will remain available as a reference document.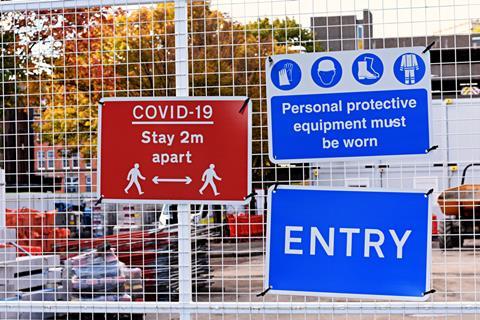 The Living with Covid plan – which only applies to England – also removed the explicit requirement for employers to consider the virus in health and safety risk assessments.
The CLC's recommendations included measures such as enforced mask wearing in small spaces, the staggering of break times as well as start and finish times and frequent cleaning of contact surfaces, particularly in communal areas.
Site operators were also expected to provide hand cleaning facilities at entrance and exist points and to employ one-way systems, with floor markets to ensure social distancing.
Published in March 2020, the CLC's site operating procedures guidance has been regularly amended over the past two years to keep up to date with the latest government regulations.
The government's Living with Covid plan – which has also seen the end of free covid-19 testing for the general public, with exceptions for people in some protected groups – stated that employers should continue to consider the needs of those at greater risk from coronavirus.