Industry leaders warn absences are threatening the viability of some firms
Industry leaders have told the government to accelerate the relaxation of covid-19 rules on self-isolating and warned that projects are beginning to buckle under a soaring number of staff absences.
The Construction Leadership Council (CLC) said ministers should bring forward "as soon as possible" the 16 August cut-off date after which double-vaccinated people will be exempt from self-isolating if they are 'pinged' by the NHS covid-19 app.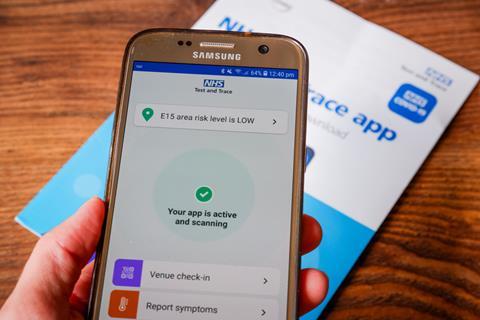 CLC co-chair Andy Mitchell said: "We have reports from across the industry of plants, sites and offices having to wind down activities as staff have been asked to isolate.
"This is putting very significant pressure on the sector, risking project delivery and even the viability of some firms.
"Where staff are already fully vaccinated, and recognising that such people will be free to work from 16 August anyway, we are asking the government to bring forward this date for essential industries like construction, ensuring that the industry doesn't grind to a halt".
More than 600,000 people were told to self-isolate by the app in the week up to 14 July, according to the latest NHS figures.
The app "pings" people and tells them to self-isolate for 10 days if they are found to have come into close contact with someone who has tested positive for covid-19.
Build UK chief executive Suzannah Nichol, who sits on the CLC's covid-19 taskforce, said the numbers of people being told to self-isolate were "killing businesses".
Nichol said the issue had been identified by Build UK members earlier this week as the biggest risk currently facing construction firms, but said it had escalated over the past few days.
She said: "Every phone call I have, it is affecting their sites to the point that some of them can't move people around."
The CLC warned that the numbers of staff hit by what has become known as the "pingdemic" have started to worsen existing difficult trading due to materials and staff shortages.
On Monday, Travis Perkins admitted it was experiencing delays for deliveries of construction products in some regions due to the large numbers of its staff having to self-isolate.
The government has said that certain "critical" individuals can be made exempt from self-isolating if their absence is deemed to risk impacting essential services and could lead to loss of life.
The highly limited exemptions would see construction employers receive a letter from the Department of Business, Energy and Industrial Strategy naming the critical workers who do not have to self-isolate.
Nichol said the plan for exemptions was "convoluted" and that government should relax the rules for self-isolating instead.
She added: "Every sector wants and needs an exemption. We would much rather the government stop trying to manage this, because it's unmanageable."
She added while Build UK understands the risk of transmission, the plan "doesn't make logical sense" to firms given that most covid-19 restrictions came to an end on 19 July.
Nichol said examples of critical construction jobs could be staff carrying out emergency railway repairs and those operating tunnel boring machines that cannot be restarted if they stop moving.