Industry leaders hope construction clients will put contractors under pressure to reform payment practices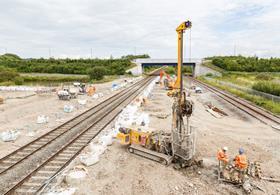 Industry leaders hope Network Rail's decision to get rid of retentions and impose strict payment terms on its main contractors will kick-start a fair payment revolution and see other clients following suit.
The rail operator said its decision, announced last week, to take a tough approach to payment practices was taken to ensure that cash would flow throughout the supply chain.
One of the architects of the change, Network Rail commercial director Stephen Blakey, told Building that contractors would be under pressure from other clients to bring their payment practices in line with Network Rail's.
At some point, he said, "those contractors who agree to support Network Rail's terms and conditions will face questions such as 'Why wouldn't they do it in Highways England's portfolio? Why wouldn't they do it in HS2's portfolio?'"
Alexi Ozioro, public affairs and policy manager at the Building Engineering Services Association, said: "If a major client like Network Rail can do it, so can everyone."
Suzannah Nichol, chief executive of Build UK, said: "We are aware of other major clients implementing similar requirements and I look forward to them setting out their intentions."
"If a major client like Network Rail can do it, so can everyone"
Alexi Ozioro, BESA
Blakey admitted the firm had been moved to act following Carillion's implosion in January and the revelations that have since emerged about the thousands of suppliers left in the lurch by missing retentions and unpaid bills.
Carillion was one of Network Rail's biggest suppliers, and the contractor's demise has left a host of firms stranded.
Days after Carillion went bust piling contractor Van Elle said it was having to write off £1.6m following its work for the contractor on a series of Network Rail jobs where the collapsed firm was carrying out improvement and maintenance work.
Network Rail was forced to put its hand in its pocket towards the end of January, promising to pay hundreds of Carillion subcontractors for work they had carried out on the network over the Christmas period.
And Blakey dismissed concerns that contractors might suffer from restrictions to their own cash flows. "We've made sure that the tier-ones will not be put in a cash-negative position," he said.
Fears over cash flows were based "on an old thinking", Blakey added, reflecting a model that involved expecting subcontractors "to do works that they don't actually get paid for until four or five months later".
The government, which came in for criticism following Carillion's collapse for not monitoring its financial situation, has indicated it is to examine tougher regulations to tackle issues around late payment.
Speaking during a debate on prompt payment in the House of Lords in May, construction minister Lord Henley said: "We should not make a point of rushing into legislation but there are occasions […] where the behaviour of certain companies – that of Carillion has been highlighted – leads us to a view that further action possibly needs to be taken."
He indicated that the government was examining how the prompt payment code "can be strengthened and enforced" and said "a call for evidence is being launched by my department on how we can eliminate the continuing problem of unfair payment."
However, the Department for Business, Energy and Industrial Strategy has yet to issue the call for evidence and has not yet published responses to consultations it launched last year looking at payment issues.
And the Cabinet Office has yet to respond to a consultation launched earlier this year which proposed blocking companies with poor payment practices from being given major government projects.