Day at the 2015 UN Climate Change Conference in Paris will be devoted to built environment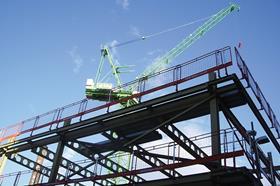 A dedicated "Buildings Day" will feature at the major climate change summit in Paris this December for the first time.
The day will be devoted to the role the built environment can play in mitigating climate change and will form part of the 2015 UN Climate Change Conference, which is aiming to agree a legally binding climate agreement from all the nations of the world. The decision to hold a Buildings Day there follows lobbying by built environment bodies, including the RICS.
Speaking to Building, World Green Building Council chief executive Terri Wills said the event, which will be held on the 3 December, will aim to get countries to increase the number of zero-carbon buildings developed and the rate of "deep retrofit" in existing buildings.
There will be four key areas of negotiation at the event – government policy and strategy, value chain transformation, finance, and measurement and accountability – which will be attended by 300 delegates, mainly consisting of countries' climate change diplomats, industry leaders, and accredited NGOs.
Buildings Day will look at how governments can set policy to reduce emissions from the built environment, how the private sector can transform the market to lower emissions, and ways to incentivise investment in energy efficiency in buildings.
Wills said France, which will host the event, "really saw that the built environment sector was committed to action on climate change".
She added: "The aim of Buildings Day is really to demonstrate to countries that the building sector is aligned with them in meeting their emissions targets."
Buildings Day will be attended by several worldwide industry groups, including the World Green Building Council, the Global Building Performance Network and the World Business Council for Sustainable Development.
There will also be a separate, simultaneous Buildings Day, outside of the official event, which will allow a greater number of industry groups to get involved in the talks.