£32m Old Oak student scheme and Knight Dragon's Greenwich Peninsula apartments amongst schemes affected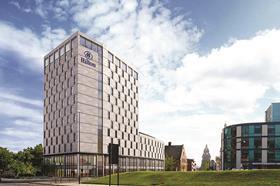 More than a dozen major construction projects could be hit by the collapse of GB Group Holdings and GB Building Solutions into administration this week.
Joint administrators Tony Nygate and Graham Newton, of business restructuring firm BDO, took charge of the firms' operations on Monday and made 350 staff redundant.
BDO refused to provide details of all projects affected, but confirmed that GB Group Holdings and GB Building Solutions staff had been pulled from 17 schemes Building is aware of.
Among them are a £32m student housing development in west London called The Collective Old Oak; a £32m Leeds Hilton hotel scheme (pictured), and CNM Estates' £29m Kingston Plaza student development in south-west London.
BDO said GB Building Solutions staff had also been taken off two developments on Greenwich Peninsula - plots M0116 and M0117, which are providing a total of 300 apartments for Knight Dragon with a combined project value of £45m.
It has also ceased work on an £8m Premier Inn in Sunderland city centre and a £7m care home in Barrow-in-Furness for Cumbria county council.
BDO's Nygate said on Monday that the businesses, which operated across the care, student accommodation, residential, education and commercial sectors, had experienced a "serious deterioration" in their working capital position.
"Regrettably, it has been necessary to make all employees redundant, save for a small number to assist the administrators," he said. "[We] are actively seeking purchasers for all or part of the business or assets, and going forward, our priority will be to maximise recoveries for the creditors."
GB Group Holdings and GB Building Solutions operated from headquarters in Sunbury, Surrey, and had regional offices in Newcastle, Rugby, Wakefield and Stockport.
GB Building Solutions was part of MJ Gleeson until a management buyout of Gleeson's contracting arm in 2005. Gleeson held a £4.9m investment in GB Group Holdings, which it last week warned was "considered to be at risk" and may have to be written down as an exceptional item in the current year's accounts.
A statement from the Leeds City Region Local Enterprise Partnership, which is developing the 173-bed Hilton hotel, said it was working up "immediate plans" to procure a replacement contractor to finish the hotel's construction and complete the project.
A Cumbria county council spokesman said GB Building Solutions had topped out the Barrow care home and was at the final fit-out stage of the project, which had been due for completion in three months' time. He said that while the site was currently in the hands of the administrators, "contingency plans" were in place that were expected to result in the home's delivery on time.
In addition to the projects it was working on, GB Building Solutions had been picked as contractor for a new £27.5m Huddersfield University building to house its Faculty of Law and Faculty of Music.
The university said it was progressing with the planning application for the scheme, but was unable to answer Building's questions on how it would select a new contractor before the magazine went to press.