Contractor had already received emergency funding from Welsh government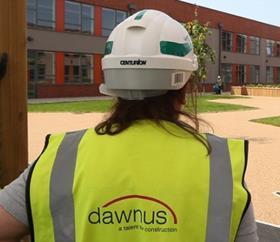 Dawnus owed creditors more than £50m when it collapsed in March, with an attempted sale of the business and a cash injection from the Welsh government having failed to fend off insolvency.
All but 21 of the Swansea contractor's 700 staff were made redundant when it collapsed following days of trouble with unpaid subcontractors.
Now administrators have revealed the £172m-turnover firm owed £40m to trade creditors when it went down, with another £3m owed to HMRC, £5m owed to employees and £667,000 owed to directors.
In a notice of his proposals, joint administrator Richard Jackson from Grant Thornton said Dawnus had first contacted his firm in December 2017 when it faced a cash shortfall because of problem UK jobs.
Three months later the Welsh government and one of its lenders, HSBC, jointly pumped £7m into the firm, which agreed to repay the debt by quitting bad contracts and selling and refinancing certain assets.
But problems jobs were "ultimately more challenging than expected," according to Jackson, and a reduction of turnover on its international jobs – historically the most profitable division – helped put a nail in Dawnus' coffin.
The firm was then put on the market last December, with just two potential buyers, who are not named, eventually making offers after 52 firms were approached about rescuing the contractor. A further 23 "distressed investors" were also contacted.
But the first bidder withdrew its offer after carrying out due diligence, with the second abandoning its interest shortly after.
By March, angry creditors had taken measures including walking off site, stealing equipment of value – including by removing vehicle trackers – and disrupting traffic in protest.
No unsecured creditors are expected to see their money again, while even HSBC and the Welsh government – both secured creditors – have been told there may not be enough cash to go around to fully repay their missing cash.
Only one secured creditor, Lloyds Bank, will see the full repayment of a £1.3m loan provided to Dawnus last February.