Affordable housing pushed back by a year to fund £400m cladding removal programme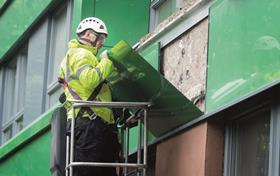 Government cash pledged to fund the removal of potentially dangerous cladding from social housing buildings is being diverted from the existing affordable housing programme.
Speaking in the House of Lords on Tuesday, Lord Bourne, a minister in the housing department, confirmed the reallocation of the money would delay the creation of additional housing.
The statement came in response to a question over whether the £400m cost was new money or would be taken out of another affordable housing budget.
Lord Bourne admitted: "The money is out of the existing funding programme but additional money will be forthcoming in the year after: it alters the profile by delaying that additional housing by a year."
Lord Bourne also reaffirmed the £400m of funding, which prime minister Theresa May pledged last week, was an estimate, with the government committed to the removal and replacement of the cladding systems even if the cost exceeded this amount.
May's pledge came the day before Dame Judith Hackitt's report into building safety was released last Thursday.
While falling short of recommending a ban on combustible cladding within her report, Hackitt later confirmed she would support housing secretary James Brokenshire if he chose to ban the controversial product.
Brokenshire subsequently announced government would hold a consultation on banning combustible cladding, alongside its ongoing consultation on the use of desktop studies.
Meanwhile, the Welsh Government has announced it will fund the replacement of cladding on three tower blocks in Newport.
The cladding will be replaced on the buildings using £3m of funding provided to social housing provider Newport City Homes.
Welsh housing and regeneration minister Rebecca Evans said: "Newport City Homes acted quickly to safeguard residents, putting in place a number of fire safety measures, including fitting sprinklers.
"Now it's our turn to support them with this investment, which will enable Newport City Homes to continue their commitment to resident safety, without compromising their vital plans to build more social housing in the city."