Residential growth bucks overall slowdown trend, according to latest Markit/CIPS index 
UK construction is continuing to experience a slowdown, and the commercial sector is contracting, according to the industry's procurement managers.
The August Markit/CIPS UK Construction Purchasing Managers' Index (PMI) also suggested "signs of a sustained soft patch ahead", with new business volumes falling for the second month running.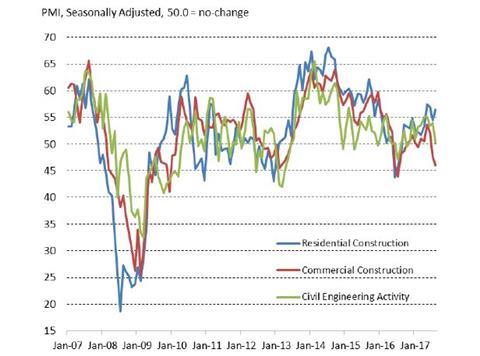 Again, survey respondents linked subdued demand to reduced business investment and heightened economic uncertainty.
As a result, construction firms exerted greater caution in terms of their staff hiring, with employment numbers rising at the slowest pace since July 2016.
The PMI stood at 51.1 in August, above the 50.0 no-change threshold for the 12th month running, but down from 51.9 in July and the weakest overall performance since August 2016.
Residential building was the only area to buck the overall trend last month, with housing activity rising at an accelerated pace compared to the previous month. But civil engineering activity was close to stagnation and commercial work dropped at the fastest pace since July 2016.
Total new order volumes dropped for the second month running in August, although the rate of contraction was only marginal and slower than seen in July.
Construction firms also recorded a decline in sub-contractor usage, which continued the downward trend seen since March. Supply chain pressures persisted in August, despite stagnation in input buying. Longer delivery times were linked to ongoing stock shortages among vendors.
Survey respondents noted that exchange rate depreciation continued to drive up prices for construction materials, but some commented on successful negotiations with suppliers against a backdrop of softer market conditions.
Tim Moore, associate director at Markit and author of the PMI, said: "UK construction companies indicated that lacklustre growth conditions persisted during August. Civil engineering work stagnated, which meant that the construction sector was reliant upon greater house building activity to deliver an outright expansion in output volumes.
"Commercial development remained by far the worst performing category, with business activity falling at the fastest pace since July 2016.
"Survey respondents noted that subdued business investment and concerns about the UK economic outlook had led to a lack of new work to replace completed projects, especially in the commercial building sector."
Moore said there were signs that UK construction firms are bracing for the soft patch to continue into the autumn, "with fragile business confidence contributing to weaker trends for job creation and input buying during August".