Specialist fit-out contractor hits £1bn cumulative turnover after trading for 12 years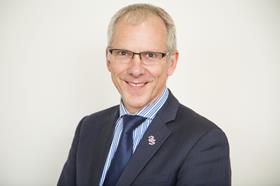 Specialist fit-out contractor Como, part of Mace, is looking to the regions to continue its growth, after hitting £1bn cumulative turnover over its first 12 years of trading.
Trevor Bacon (pictured), Como's business unit director, told Building the next phase of the £150m-turnover business' expansion would see it target work outside London. Currently only 5% of Como's work is outside the capital.
Bacon said the "market conditions are ripe for the business to grow" across the UK.
Como's 140-strong staff is working on 45 to 50 projects per year ranging up to £50m plus, with about half of these being occupied fit-out projects.
Como is on site in Dunfermline, Portsmouth, Leeds and Swindon for repeat clients. Bacon said repeat clients will make up 80% of the firm's business this year.
Only 5% of Como's turnover is directly linked to joint venture projects with Mace.
The company has a £1.3bn fit-out pipeline and Bacon said 2016 and 2017 are shaping up well for the firm particularly as the banking and financial sector are on a "comeback" after a depressed few years. He admitted, however, that the fit-out and refurbishment market overall was "still quite tough and competitive", and said costs have not yet risen to the levels predicted.
He said 2017 will see the highest amount of square footage in the fit-out sector since pre-2008, but did not yet see the sector hitting pre-crash levels.
Bacon predicted there was going to be a "massive change" towards smart buildings and "future proofing" developments.
Como's parent company Mace posted record turnover for the 2014 calendar year in June, with turnover up 26% to £1.5bn, while pre-tax profit rose 8% to £35m.