Material and labour shortages take their toll as June's output is worth £39m less than in February 2020
Construction activity dipped back below pre-covid levels in June after the third straight month of contraction in output.
The latest data from the Office for National Statistics (ONS) have revealed that monthly construction output fell by 1.3%, or £178m, in June 2021, because of a 4.2% decline in repair and maintenance offset by a 0.5% increase in new work.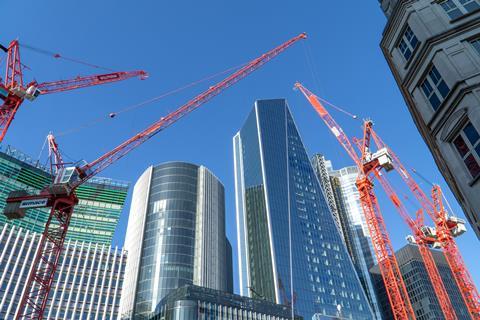 The fall means output in June was 0.3%, or £39m, below the February 2020 pre-coronavirus pandemic level. New work was 2.1%, or £188m, below this level, while repair and maintenance was 3.1%, or £149m, above despite the month.
The ONS update said responses to its monthly survey suggested shortages of construction products, particularly timber, steel, cement and tiles have contributed to recent price rises, which have dented June's output figures.
Mark Robinson, group chief executive at Scape, said that despite the sustained recovery of order books in the first half of the year, June's fall in output was a sign that material and labour shortages were inflating costs and extending project timelines.
He said: "Inflation is tipped to continue rising until the end of the year at least, which has the potential to hamper the impact of increased government spending, as it looks to modernise infrastructure and stimulate a construction supercycle.
"The support provided to SMEs in the coming months will be key to mitigating any negative long-term effects – particularly for those businesses with restricted buying power or weaker order books post-covid."
Infrastructure was the only new work sector to record output above pre-covid levels, with activity sitting 30.9% or £562m, above output in February 2020.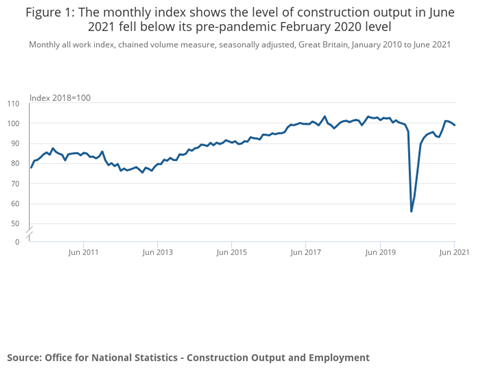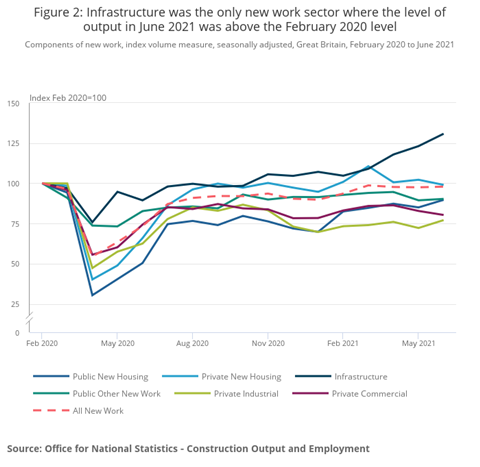 But in contrast to the monthly figures, quarterly construction output grew by 3.3% in quarter two compared with quarter one - both new work and repair and maintenance increased 3.9% and 2.3% respectively.
Total construction new orders grew by 17.6%, or just under £2bn, in quarter two compared with the first three months of the year.
Total new orders also recovered to above its pre-pandemic level for the first time, sitting 1.6%, or £214m, above the quarter one 2020 level.
Simon Rawlinson, partner at Arcadis, said: "The latest second quarter orders are strong across the board, confirming the sustainability of the post covid-19 bounce back.
"Contractors in the logistics and offices sectors in particular now find themselves with bulging order books. There will be further challenges in connection with materials and labour availability, but this is a great position for the industry to go into the second half of 2021."
New work grew by 3.9%, or £983m, in quarter two largely driven by infrastructure, which grew 15.9%, or £926m.
The ONS said anecdotal evidence suggested the mixture of a strong pipeline of orders before the pandemic and being able to implement social distancing measures more easily on larger, outdoor civil engineering sites meant infrastructure had performed relatively strongly since covid-19 hit.
Repair and maintenance also grew by 2.3%, or £345m over the same period. The largest contributor to this was growth of 5.2%, or £401m, in non-housing repair and maintenance.
The ONS Construction Output Price Index rose 3.4% in the 12-month period to June, the strongest annual rate of growth for output prices since August 2019.
Looking at the bigger picture, the ONS said the peak-to-trough fall in construction output in 2020/21 was substantially larger than in the 2008/09 recession but that the recovery in the second half of 2020 had been much quicker compared with the construction market after the financial crisis.