Deloitte says sentiment towards city centre development is buoyant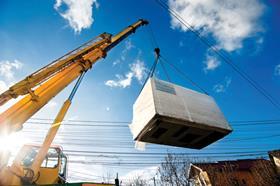 UK regional cities are reporting record levels of construction activity as developers' confidence for city centre residential development remains strong.
This is according to the latest reports in the Deloitte Real Estate Crane Survey UK series, which monitored construction activity in Belfast, Birmingham, Leeds and Manchester last year.
In Birmingham, the survey identified 24 new construction starts breaking ground. The number of residential schemes starting construction was up by almost a third to 13 from the previous year, delivering 2,500 units this year alone.
Student housing schemes are up by 53% and are set to deliver 1,782 bed-spaces, while the Midlands city's office development has surpassed one million sq ft for the second successive year, with over 1,4 million sq ft currently under construction.
In Manchester, 20 new residential schemes started construction last year, exceeding 2008 levels for the second year running, while across the 41 housing schemes, 11,135 units will be delivered to market.
In the office sector, five new developments started, bringing total office space currently under construction to 1.5 million sq ft, with six residential schemes exceeding 25-storeys on completion.
The number of residential units under construction across Leeds is at its highest in a decade – 1,586 units across five development sites. There were four new starts in the higher education sector, adding over half-a-million sq ft into the development pipeline.
Hotels dominated Belfast's figures, with over 1,000 new hotel rooms currently being built and all due to complete this year – the highest number of any of the clients in the survey.
The crane survey series has also published Dublin's development activity for the first time. It has over four million sq ft of office space under construction, as well as 3,528 residential units. It also recorded 13 major student accommodation schemes under construction, set to deliver 4,529 bed-spaces when all are completed.
Simon Bedford, partner and regional head at Deloitte Real Estate, said: "The results reflect the growth and resurgence in the regions, surpassing last year's record breaking figures. Sentiment towards city centre development is buoyant across all sectors, but it is perhaps the residential private rented sector that is the stand out for 2017.
"The unparalleled scale and volume of development is backed by significant investor confidence, strong business communities and an influx of new talent. The demand for property, particularly in the residential market, has never been more evident."