Latest Markit/CIPS survey finds sector grew for eleventh successive month in March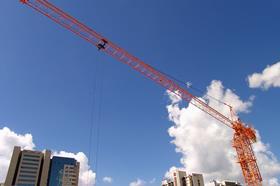 Confidence levels in construction hit a seven-year high in March, as activity grew for the eleventh successive month, according to the latest Markit/CIPS survey.
The monthly survey of purchasing managers, which measures how widespread rises or falls in activity across the industry are, recorded a value of 62.5 in March, down from 62.6 in February.
The index, prepared by CIPS and Markit, records growth as any figure above 50, with figures below 50 indicating a decline in activity.
The survey also found confidence about the 12-month outlook was at its highest level since January 2007.
Housing activity regained its place as the best performing sub-sector, while commercial construction also rose sharply. Employment grew at its fastest pace for four months.
Tim Moore, senior economist at Markit, said: "House building reclaimed its place as the main driving force behind the resurgent UK construction sector in March, following some weather-related disruptions during the previous month.
"The rise in residential construction was one of the sharpest experienced over the past ten years, helped by strong demand for new development projects and supportive funding conditions.
"Improving economic fundamentals led to a faster rise in commercial activity during March, while civil engineering growth eased sharply from the survey-record high seen amid the flood relief efforts in February."
David Noble, chief executive of CIPS, said: "Confidence in construction is soaring thanks to the budget boost and dissipating impact of the floods in a ringing endorsement the recovery will continue.
"This is reflected in employment too where the sector maintained expansion and grew at its fastest pace in four months."