Construction Products Association decision comes as ONS reveals first quarterly output drop in two years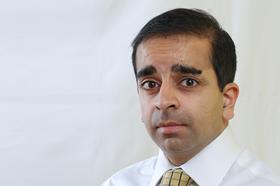 The Construction Products Association is to downgrade its output forecast for the construction industry this year, as the Office for National Statistics this week reported its first quarterly fall in output for more than two years.
The Construction Products Association (CPA) said it still expected to see strong overall growth in output in 2016 and 2017, despite growing concern in the sector regarding a drop-off in new orders for housing and commercial construction.
However, Noble Francis (pictured), economics director at the CPA, said it now expected to make a "significant but modest" downgrade to its expectations for growth this year by around one percentage point, from 4.9%, because of the unexpectedly weak performance of the sector in the third quarter.
On Tuesday the Office for National Statistics (ONS) unveiled its first estimate of construction output in the third quarter of the year showing output fell by 2.2%. If the fall is confirmed once the final figures are in, it will be the first quarter on quarter fall in construction output since the first quarter of 2013.
The fall had been expected, after initial estimates for output in July and August both showed declines in output, of 1% and 4.3% respectively.
The fall, which implies third quarter output of around £32.3bn, means the construction economy is still languishing well below its peak in 2007, where quarterly output topped £33bn for six consecutive quarters.
While the ONS's preliminary estimate does not break down how different parts of the industry have performed, the monthly data previously released for July and August suggests all sectors aside from infrastructure have seen output decline. Public housing and non-domestic construction look to have shown the steepest falls.
Commercial construction is also under pressure, with the CPA's Francis saying the sector was being hit by developers putting work on hold as construction costs rise, as revealed by Building earlier this year. He said: "Sharp rises in [construction] costs have adversely affected margins and meant that many projects are on hold for the moment whilst contractors go back to clients and renegotiate prices."
However, he said the industry would nevertheless continue to grow in 2016, supported by infrastructure investment. "Overall, recovery is never a straight line and there are always a few bumps and scrapes along the way."
Experian construction analyst James Hastings, who last month downgraded his firm's 2015 forecast, agreed infrastructure investment would see overall growth in 2016, but said he had been "surprised" by the weakness in the commercial construction sector. "It may be we're seeing very early signs of EU referendum uncertainty coming through which could be inhibiting foreign direct investment."