ONS figures reveal output shrank by 2% in November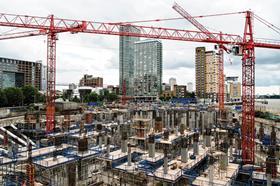 Output in the construction industry fell by £779m in November - the largest amount since 2012 - according to Office for National Statistics (ONS) figures.
The fall equates to a 2% decrease in output for the three-month on three-month series in November 2017, representing the sixth consecutive period of decline and the biggest contraction since August 2012.
There were three-month on three-month decreases in both all new work, and repair and maintenance, which fell by 2.1% and 1.7% respectively, although private housing new work did grow by 1.2%.
This fall has been broadly driven by decreases in private commercial work, infrastructure and total housing repair and maintenance.
Private commercial work decreased by £401m in November, while both total housing repair and maintenance, and infrastructure continued their recent declines, falling by £164m and £157m respectively.
Only private housing provided a positive contribution to growth, increasing by £100m - the fifth consecutive period of growth in this sector.
Despite the overall three-month on three-month fall, construction output increased by 0.4% month-on-month in November 2017.
The month-on-month increase in construction output occurred as a result of a 0.5% rise in repair and maintenance, and a 0.4% increase in all new work.
The total repair and maintenance increase came after three consecutive months of decline.
Rebecca Larkin, senior economist at the Construction Products Association (CPA), said the data confirmed the industry had ended 2017 on a weak note.
"Past falls in new orders, particularly in the commercial and public non-housing sectors, now appear to filtering through into lower volumes of work. On a three-month basis, commercial output fell 5.4%.
"It now looks impossible that the industry avoided a full quarter of contraction in Q4, with the £30bn private housing sector contributing the only positive story. Therefore, construction is set to have caused a drag on overall UK economic growth during the quarter."