Brexit uncertainty blamed as output in the three-month on three-month series fell by 3.4% in April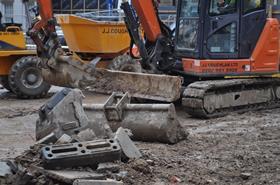 Economic and political uncertainties continue to dog the domestic construction sector, with new data revealing further falls in output.
The latest Office for National Statistics (ONS) figures show output in the three-month on three-month series fell by 3.4% in April 2018, the biggest fall seen in this series since August six years ago.
The ONS said the driving force behind the decline was repair and maintenance work, down 3%, and new work, which fell by 3.7%.
Month-on-month, April saw a small increase – up 0.5%.
But this modest growth did little to assuage industry fears that political stalemate over Brexit and the impact of foreign exchange fluctuations on material costs were having a big impact.
Mark Robinson, Scape Group's chief executive, said the government's failure to provide clarity on its Brexit policy was "damaging both the construction industry and the wider economy".
Despite the lack of appetite for large private and public sector jobs the need for investment was clear, Robinson added. "There is an opportunity for the government to push ahead with big projects to provide an economic boost that will support SMEs and supply chains in a time of relative uncertainty.
"If ministers could extend the right of local authorities to borrow to build council housing, this would provide a welcome boost to supply chains at a regional level."
Noting the impact of the poor weather in the early part of 2018, Brian Berry, chief executive of the Federation of Master Builders, said rising costs and uncertainty around the post-Brexit economy were playing their part in giving the industry the jitters.
"In the medium to longer term, with nine months until Brexit Day, the future is uncertain for the UK construction sector. The government is still to confirm what the post-Brexit immigration system will look like.
"The construction sector is largely reliant on accessing EU workers with more than 8 per cent of construction workers coming from the EU. It is therefore imperative that the sector knows how, and to what extent, it can recruit these workers post-Brexit," he added.
And Michael Thirkettle, chief executive of consultant McBain, said the latest stats backed assertions that construction was still in troubled waters. "Continuing uncertainties around Brexit, and the poor value of sterling impacting on the cost of imported materials, [mean] many UK companies are delaying investment decisions.
"The real test, however, will be in the months to come, given the uncertainty over issues like Brexit that have impacted on UK companies' commitment to new projects over the last two years."