ONS data shows construction output in July was worth £257m less than the month before the pandemic hit
Construction activity remained below pre-covid levels for the second month in a row as monthly output fell by 1.6% in July, according to the latest Office for National Statistics figures.
The ONS said anecdotal evidence from businesses suggests the main reasons for the decline were price increases and product shortages caused by supply chain problems.
Construction output in July was 1.8% (£257m) below the February 2020 pre-pandemic level.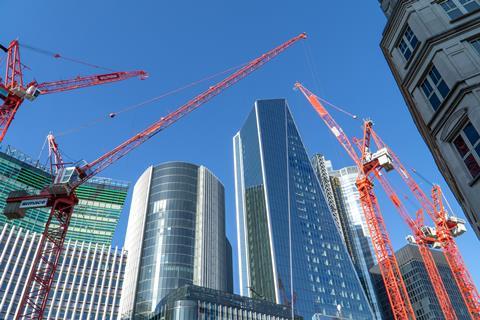 New work and repair and maintenance work both contributed to the fall, the former was 3.2% below what it was in Feburary 2020, the latter was down 0.6%.
Mark Robinson, group chief executive at Scape, said: "The construction output's first significant contraction should come as no surprise given the ongoing impact of material and labour shortages in recent weeks.
"Greater collaboration between clients and contractors will remain central to this. This includes holding large contractors to fair payment practices, which will boost cashflow for SMEs and lessen the burden on smaller suppliers."
Infrastructure has been the best performing sector over the pandemic at 35.7%, or £649m, above its February 2020 level and private commercial the worst performing sector over the pandemic at 20.3%, or £481m, below.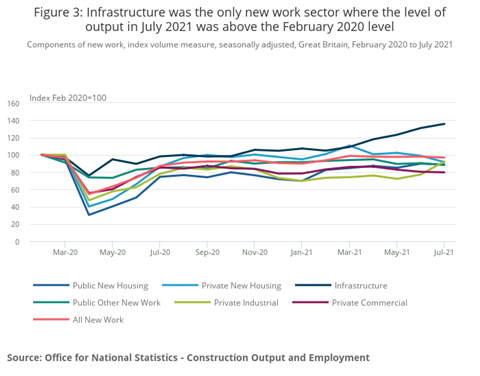 Monthly construction output fell by 1.6% in volume terms in July because of 1.1% and 2.4% declines in new work and repair and maintenance respectively.
The decline in monthly output came mainly from private housing, which saw falls in both new work, and repair and maintenance of 7.5% and 6.2% respectively. The ONS said this was driven by price increases likely caused by product shortages.
Clive Docwra, managing director of McBains, said the problems did not relate to market confidence but to materials shortages, especially imported timber which has seen price rises of more than 60% over the last year.
He said: "Price rises are already evident in recent tender returns, which in turn could fuel wider inflationary pressures."
Alongside the monthly fall, construction output fell by 0.6% in volume terms in the three months to July, the first three-monthly fall since February 2021, driven by a fall in repair and maintenance of 2.9%.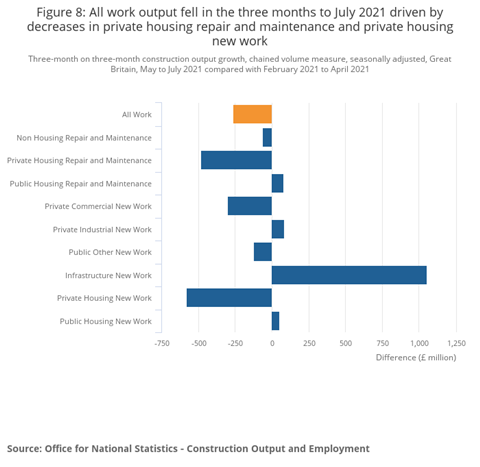 The decline in repair and maintenance was mainly because of an 8.3% fall in private housing repair and maintenance.
Docwra said: "Private housing and repair and maintenance have been responsible for leading a rise in output in recent months, but these sectors in particular require a lot of timber, and this is reflected by the £217m decline in private housing new work, and £110m fall in repair and maintenance work."
New work saw an increase of 0.7% in the three months to July, with the largest contributors to this growth the infrastructure and to a lesser extent private industrial sector, which grew by 17.5% and 8.2% respectively.