Infrastructure also behind 2.1% third quarter growth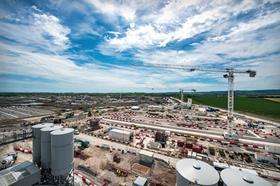 Firms have enjoyed a busy few months as construction output grew 2.1% in the third quarter, according to data released by the Office for National Statistics.
The industry continues to shake-off a poor first quarter marked by bad weather and a 1.6% contraction in output, the latest ONS figures suggest.
Growth has been fuelled by private housing, with output jumping 9.6% on the July-September period in 2017. Infrastructure also contributed to growth, with the sector expanding 6.5% year-on-year.
But problems remained in the private commercial market, down 5.3% year-on-year, while the biggest drag on output came from non-infrastructure or housing public work – which saw an 11.3% drop on output from the third quarter last year.
Repair and maintenance activity rose by 1%, the ONS added.
The volume for all work in September reached what the ONS said was the highest monthly level since monthly records began in January 2010, as was the near-£14bn value of all work carried out.
Mark Robinson, chief executive of Scape Group, said that while the industry had bounced back, the bad weather in the first quarter of this year had hit businesses and this had significantly affected output.
"With Brexit edging closer, and the possibility of a 'no-deal' scenario looking increasingly likely, it is more important than ever that we maintain a steady stream of new work and support SMEs wherever possible," he added.
Blane Perrotton, managing director of Naismiths, said: "The surge in output in the third quarter is flattered by comparison with the grim decline of the first quarter and the plodding indifference of the second. But this is real and welcome progress."
"Housebuilding retains its crown as both poster child and 'get out of jail' card for the industry as a whole," he added.