Housing activity gives flagging sector a much-needed boost but Brexit-related fears still dominate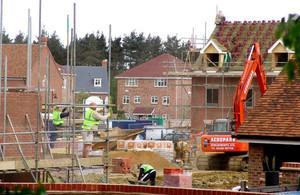 Industry figures gave a cautious welcome to January's increase in construction output but warned the turnaround could be temporary, given what lies ahead for the UK economy after Brexit.
The Office for National Statistics reported today that overall output grew by 2.8% in the first month of 2019, reversing the 2.8% decline seen in December 2018 and 1.8% higher in 2019 than the same month a year earlier.
Public new housing rose by 5%, while infrastructure work grew by 5.9%.
The more indicative three-month-on-three-month series showed a dip of 0.6% in January, driven by a fall in RMI work.
Mark Robinson, chief executive of Scape Group, said January's data showed businesses were no longer prepared to wait out the Brexit storm and were getting on with the business of building.
But despite the good housing statistics he warned the latest reported increase could be temporary. "Theresa May is taking it to the wire with Brexit and there are just days left to finalise a deal.
"With no time to tie up loose ends the, and zero clarity on how the UK can continue to assess essential construction talent from the EU, the industry will likely be left in the lurch."
Blane Perrotton, managing director of consultants Naismith, warned housebuilding activity could be a temporary reprieve, despite demand: "On the front line, work on residential projects is easing off as contractors increasingly have gaps between completing one job and moving onto the next."
Perrotton said even if tonight's Brexit vote goes the prime minister's way "the construction sector is likely to continue facing the same challenges it has ever since the referendum, running a marathon starved of the oxygen of confidence".