Two thirds of poll respondents say they are not confident in the likely outcome of the government's negotiations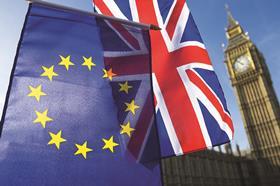 Two thirds of construction professionals are concerned the government will not negotiate a good Brexit deal for the industry, according to a Building survey.
In a poll of 137 readers, 66% said they were not confident about the likely outcome of Brexit negotiations for construction, compared with 26% who were. The remaining 8% were undecided.
The results come as Building pushes ahead with its Building A Better Brexit campaign to help secure terms in Brexit negotiations that will safeguard a sector that contributes around 6.5% of GDP.
The first stage of the campaign is to help inform Liberal Democrat peer Lord Stunell's high-level review into the impact of Brexit on the construction industry.
Stunell told Building last week he will aim to hold the government to account on issues of importance to construction through his work on the review, adding: "The industry runs a very real risk of being left out again. If the industry falls silent, then there isn't any real chance of issues coming to ministers' attention."
Noble Francis, economics director at the Construction Products Association, welcomed Stunell's review: "Although the government is not prepared to publicly discuss its negotiating position, there are serious issues with respect to labour and the trade in products and materials that may impact on the construction sector more than other industry sectors."

The poll results are shown below.
Are you confident the government will negotiate a good Brexit deal for construction?