Residential remains strongest sector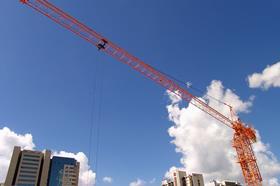 The momentum of recovery in the construction sector is at its slowest rate since October last year, according to the latest Markit/CIPS report.
The monthly survey of purchasing managers recorded a value of 60.0 in May – down from 60.8 the previous month and from the six year high of 64.6 set back in January.
But May's figure was the thirteenth successive month where activity has been above the 50.0 no change level.
House building remains the star performer in the industry although the survey said the pace of activity eased to a three month low while the rise in commercial building activity was the weakest in the sector for seven months. Civil engineering work increased on April's figure.
But despite the blip, Tim Moore, senior economist at Markit, said: "The UK construction sector is enjoying its strongest overall phase of expansion since the summer of 2007.
"The latest survey highlights that the construction sector is now experiencing its longest period of job creation for six years. Strengthening demand for construction staff arrived amidst the fastest drop in sub-contractor availability since August 1997, which in turn contributed to a survey-record rise in sub-contractor charges in May."
He added that UK construction output was still 10% below its pre-recession peak but said lengthening delivery times for raw materials was a further sign of the recovery.
Richard Threlfall, KPMG UK head of infrastructure, building and construction, said demand was outstripping supply resulting in rising costs for main contractors.
"Availability of sub-contractors has fallen at the sharpest pace since August 1997, leading to increased supplier lead times and higher rates. It will be a cause for real concern amongst main contractors that rates charged by sub-contractors have increased at the steepest pace since the survey began 17 years ago.
"The construction supply chain took most of the pain during the recession, with many businesses going bust and output falling 20 per cent below its peak. But over the last year demand has picked up sharply and main contractors are having to compete for the reduced capacity in the market. Now it is main contractors taking a thrashing and the supply chain holding the whip.
"Main contractors' difficulties are compounded by the shortage of skilled labour, and rapidly rising demand for construction materials which must soon translate into a further upswing in materials inflation."