Business confidence at its lowest level in two years
Construction output increased in September for the first time in three months as easing supply shortages helped cover softening demand.
According to the latest PMI data, the month saw the weakest trend for new orders since the beginning of the post-Covid recovery in July 2020 and business confidence dropped to its lowest level in two years.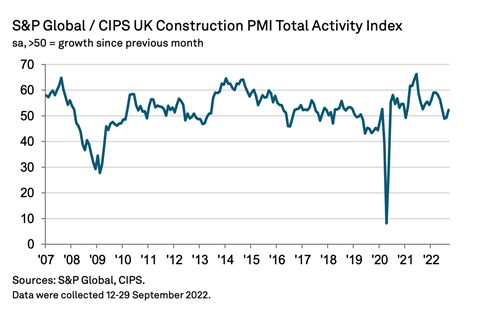 However, the industry posted an index reading of 52.3, up from 49.2 in August. Survey respondents commented that the boost to activity came in part from work on previously delayed projects.
Tim Moore, economics director at S&P Global Market Intelligence, which compiles the survey, said: "The return to growth was fuelled by delayed projects and easing supply shortages rather than a flurry of new orders.
"Reports of delivery delays for construction products and materials were the least widespread since the pandemic began as greater business capacity and improved transport availability helped to ease pressure on supply chains."
New business volumes were broadly unchanged overall, which firms attributed to slow decision-making among clients and greater risk aversion because of inflation and concerns about the broader economy.
Recent weeks have seen the value of the pound plummet following the new chancellor's announcement of expensive tax cuts.
>> Sterling collapse will hit margins 'in all parts' of construction, say economists
Softening demand and reduced inventory building – a result of greater faith in suppliers – combined to bring about a marginal reduction in purchasing activity.
Dr John Glen, chief economist at the Chartered Institute of Procurement & Supply, said the rise in output had "no sign of sustainable growth behind it" and that this was "not lost on builders"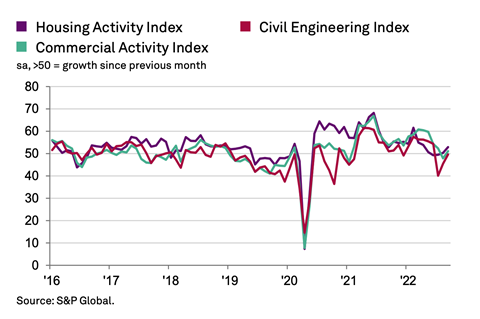 Housebuilding was the best performing category in September (index at 52.9), with growth reaching a five-month high, though Dr Glen warned that rising interest rates would be an "obstacle for house building to keep up the momentum" going forward.
Meanwhile, commercial work increased marginally (51.0) and civil engineering activity (49.6) fell for the third month in a row.
Average cost burdens increased sharply in September, but the overall rate of inflation eased to its lowest level since February 2021, which survey respondents attributed to lower fuel prices and improved transportation availability.
Employment growth accelerated in September from August's 17-month low, with roughly 21% of the survey panel reporting a rise in staffing levels.
Responding to the index, SCAPE chief executive Mark Robinson said the restoration of the pound to pre-mini budget levels would "provide greater short-term certainty" on prices but said inflation would still affect both public and private sector projects.
"Our figures show the sector delivered more than £1bn in social value for local communities during the post-pandemic recovery, but we risk seeing the progress of vital regeneration slowing if conditions remain volatile for a sustained period," he said.
Max Jones, director in Lloyds Bank's infrastructure and construction team, said that in the face of the current uncertainty contractors could take some confidence from having navigated the past two years' disruptions.
"While other announcements have stolen the headlines, the construction industry will also be broadly welcoming the new infrastructure measures unveiled by the Chancellor in his fiscal statement," he said.
"The projects announced will provide a clearer pipeline of road and rail projects to bid on. However, it is still not clear how the workforce to carry out these projects will be resourced when the labour market is already tight."