September figures point to strong pipelines despite fall in awards for smaller projects
Construction should brace for a glut of project starts later this year as the value of main contracts for major projects surged by 95% in the three months to the end of August, information provider Glenigan has said.
Despite smaller project starts falling by 20% during the period, the firm's September Construction Review forecast a return to growth towards the end of the year and into 2022.
The overall value of all main contract awards rose by 11% in the three months to August, 44% higher than the same period in 2020 and some 50% above 2019 levels.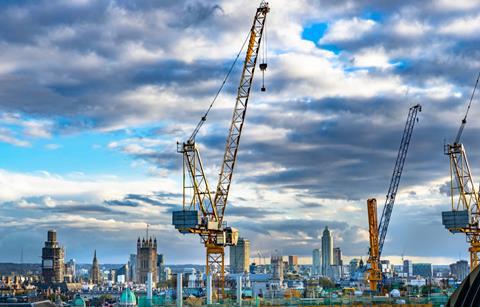 In contrast to smaller projects, starts for projects valued above £100m were up 59% on the previous three months, 45% higher than a year ago and 174% above the same period in 2019.
Glenigan said the surge can be partly attributed to the start of the £3bn Sofia Wind Farm Expansion, the £2.2bn Euston station for HS2 and the £1.2bn Silvertown Tunnel development.
But the report found that planning consents fell across the board by 18% against the previous three months and were down 22% on a year ago.
However, the firm said this could be explained by the extremely high approval rates last year, with the recent spate remaining strong compared to 2019 levels.
Meanwhile, the value of residential starts fell by 21% compared to the previous three months despite social housing starts rising by 8%.
Starts in health projects were up by 6%, although office, civil engineering and infrastructure starts all saw double-digit declines.
Output also fell across most regions except Wales and the North-west, with London dropping by 13% and the West Midlands and Northern Ireland both falling by 21%.
Glenigan economics director Allan Wilen said that while many of the figures were "disappointing", he expected a turnaround in the closing months of this year.
He said the sector's performance had been "falling back really since the first quarter of this year, but it does now seem to be bottoming out and stabilising. So, yes, we're down again but the rate of decline has been slowing."
He added: "I think we're looking at a sustained recovery coming forward."
He also said that some of the gloomier figures could be the result of clients rethinking the timing of project starts because of material shortages.
"If you have a whole series of projects running, if material shortages are delaying completion of schemes you've already got onsite and you've got resources tied up in those, then you're potentially not opening up new sites."
Earlier this month, ONS data showed construction output slipping for the second month in a row with the figure falling by 1.6% in July.
The ONS said anecdotal evidence from businesses suggests the main reasons for the decline were price increases and product shortages caused by supply chain problems.