Consultant adds more hikes on way as firms get to grips with incoming building safety legislation
Turner & Townsend has joined those voices calling for the construction sector to prepare for sustained price rises because of materials costs and booming demand.
The consultant's 2021 UK Market Intelligence Report comes as the CLC again warned the shortage of keys materials such as timber, roof tiles and steel showed no sign of letting up any time soon.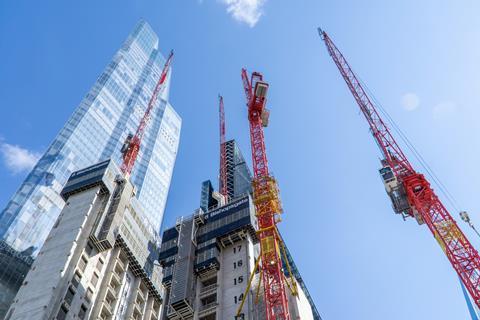 T&T said increased government investment combined with work deferred by the pandemic and a recovering UK and global economy was helping send prices north.
Yesterday both materials firm Kingspan and builders merchant Tarvis Perkins upped their profit forecasts in their latest trading updates with the pair saying they were benefitting from a post-lockdown building boom.
Several consultants have warned that some subcontractors will only fix their prices for 30 days because of the volatility in materials prices while others have warned that firms bidding too low to win work will be caught out down the line by increased costs.
T&T said a drop-off in manufacturing capacity, ongoing freight delays, both at home, where the CLC said a shortage of drivers is hampering efforts to get products to site, and abroad, Brexit legislation and fragmented global supply chains are pushing up costs and tightening supply chains.
Martin Sudweeks, UK cost management managing director at Turner & Townsend, said firms tempted to cut corners to recover spiralling costs should think again.
He added: "This must not become a reason to prioritise cost over quality – when it comes to factors like building safety, meeting the highest standards is non-negotiable. What matters is that businesses are prepared and consciously control their costs and manage their risks.
"This means close collaboration and an intimate knowledge of your global and local supply chains. Now is the time to be decisive, and to listen and communicate with suppliers and contractors at every level – keeping a firm grip on the dynamics within the market."
T&T said real estate tender price inflation will rise to 1.5% this year, up from -2% in 2020, with this increase continuing up to a potential 4.5% rise by 2025.
It said infrastructure tender prices would follow the same trend and, given a firmer pipeline of work bankrolled by government money, rises in this sector were forecast to exceed those of real estate – rising from 1% in 2020 to 5% by 2025.
The report said some supply chain pressures will ease in the short-term as the industry moves through the disruption to global trade and adjusts to a new relationship with the EU.
But it warned about the potential impact of regulatory change around building safety and how that may drive inflationary pressure further upwards in the longer term.
Four years on from the Grenfell Tower fire, the owners of residential buildings, particularly buildings over 18m high, are being told to replace existing cladding with fire compliant materials.
T&T said high demand for safer, compliant materials, coupled with the impact of Brexit on the supply chain, has pushed up the price of key materials. For example, the cost of cladding rose by 5.2% in the 12 months to this April alone.
Nattasha Freeman, director for safety health environment and quality at Turner & Townsend, said: "Adjusting successfully to [legislation] changes will take collective effort across the supply chain and place tough demands on the sector's already stretched safety specialists."
T&T said firms needed to be prepared to manage rising costs associated with new responsibilities around material sourcing, skills, design management and build processes.