Construction the only sector to continue to contract as overall economy returns to growth following Olympics boost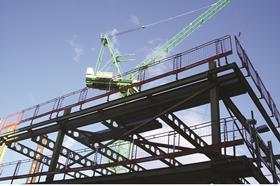 The construction industry was the only sector of the economy which continued to shrink over the summer as the UK returned to growth, official statistics reveal.
The UK economy grew 1% in Q3 2012, compared to Q2 - higher than many analysts anticipated - but construction output shrunk 2.5%.
The Office for National Statistics said the Olympics ticket sales had been responsible for an uplift of 0.2% to the country's growth.
The production and services sectors grew 1.1% and 1.3% respectively.
However construction remains the only sector to be contracting, following a fall of 3% in Q2.
Alasdair Reisner, director of external affairs at the Civil Engineering Contractors Association, said: "The plummeting output for the sector should give the government grave cause for concern. Any continuation of these declines runs the risk of dragging the UK into a triple-dip recession.
"We need swift action to unlock the potential of the construction industry so that it can play its role in the sustained recovery of the UK economy."
Reaction to the growth figures:
Jonathan Hook, construction leader at PwC, said: "The decline in construction output of 2.5% is disappointing but not unexpected. The industry is feeling the impact of cuts to the government's capital programme.
"Government has got the message about stimulating projects and the potential impact on economic growth and there are also increasingly positive signs from the private sector, but in my view it will probably be a year before the sector starts to see growth again."
UKCG Director Stephen Ratcliffe said: "Construction is a lagging indicator so it is not surprising that, at this stage of the economic cycle, it is faring less well than other sectors.
"The industry welcomes the steps Ministers have taken to boost confidence in the construction sector. Programmes such as the UK Guarantees Scheme are a positive step.
"UKCG has been calling for 5 measures to help kick-start construction activity:
Better quality information from the public sector on the construction pipeline; and a speeding-up of the flow of projects
Early signals on the level of capital investment in the next CSR period
Implementation of the £40bn UK Guarantees Scheme
An early announcement on the future of the Private Finance Initiative
Effective ways of releasing institutional investment in construction projects.
We will continue to work with government to try and achieve these".