Lending to construction SMEs through Enterprise Finance Guarantee dwindles to almost nothing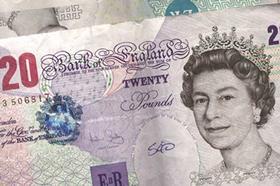 Bank lending to small businesses in the construction industry through the government's flagship small business lending scheme has dwindled to almost nothing, new research has revealed.
The research, by accountant Wilkins Kennedy, shows that lending through the Enterprise Finance Guarantee to the construction sector fell 86% to just £3.5m in Q2 2012, from a record high of £25m in the same quarter in 2009.
The government's flagship Enterprise Finance Guarantee (EFG) scheme aims to boost lending to small and medium sized businesses with a turnover of up to £40m. Under the EFG scheme, the government guarantees 75% of the value of lending in an individual loan to a business.
Nick Parrett, Wilkins Kennedy head of property & construction, said: "The lack of funding for small construction businesses has had serious implications on the construction industry as a whole, as well as for the wider economy.
"In 2011 alone, over 3,500 construction companies went bust.
"Problems with funding and the financial stability of small suppliers can hit the entire supply chain and have led to many building projects stalling.
"A lot of jobs have disappeared or are at risk. These figures show the EFG scheme is now essentially meaningless for getting funding to small businesses in the construction sector."
"This is the only government scheme focused on lending to small businesses."
Wilkins Kennedy said that although EFG lending as a whole was down, the construction sector had consistently been the lowest recipient of bank lending under the EFG scheme.
In total between 2008 and 2012, the construction sector only received 8% of all EFG loans. This compares to the wholesale and retail sector, for example, which received 28% of all loans offered.
In Q2 2012, the construction sector received just 4% of all £85.7m worth of EFG loans.
Parrett said:"Banks have had their fingers burnt lending to construction companies before, which is why it is so important to have a scheme like the EFG which has government backing."
Wilkins Kennedy said that the lack of EFG lending to smaller construction companies was mirrored by a lack of lending across the sector.
Bank of England statistics showed the amount of overall bank lending to the construction sector has also fallen drastically, down 12% in the last eighteen months from £22.7bn in outstanding loans on 31 January 2011 to £20bn as of 30 July 2012.
Parrett said: "Politicians are keen to talk up the job creating role of the construction sector and have earmarked infrastructure as one of the areas that will benefit from continued government support."
"However, until more debt funding can be found for the sector it is hard to see a recovery taking hold."
Julia Evans, chief executive of the National Federation of Builders, said the figures on EFG lending "do not come as any surprise".
She said: "The EFG scheme, like Project Merlin after it and, most likely, the Funding for Lending scheme have failed small businesses and smaller construction businesses in particular.
"Construction firms are seen as too high risk by banks and their aversion to risk is not going to change in the near-term in order to kick start the economic activity that all political parties agree the housing and construction industries can deliver."
She called on the Homes and Communities Agency to make making funding available to a greater number of lower volume housebuilders. "Also, if we are to see another round of quantitative easing, we would encourage the Bank of England to consider channelling funds through local authorities who are closer to where the money needs to be spent," she added.
A Department for Business, Innovation and Skills spokesman said that since May 2010 over 9,400 SMEs had been offered EFG loans with a total value in excess of £970m, including over 540 SMEs in the construction section sector, with a value in of £52m.
He said the EFG was a "demand-led loan guarantee scheme" that was "complementary to commercial lending - not a replacement".
But he added: "Recent use of the EFG scheme has flatlined. Government has worked with the banks to broaden the range of the scheme and making it easier to use. So it's now up to the banks to make full use of these new flexibilities and pass on the benefits to viable businesses.
"The business minister Michael Fallon has written to the five main banks putting them on notice that they will be named against their lending rates in a league table if use of the scheme doesn't improve this year. This hasn't been done before."