Sites were allowed to remain open during the first lockdown
Construction workers will be allowed to attend building sites despite staff in other sectors being told to work from home to halt a second wave of covid-19, the prime minister has said.
Announcing new measures to bring down the number of coronavirus infections, which are currently doubling every seven to eight days, Boris Johnson said construction site workers in England would be exempt from an order for people to stay at home where possible.
The prime minister said: "In key public services and in all professions where home working is not possible such as construction or retail people should continue to attend their workplaces.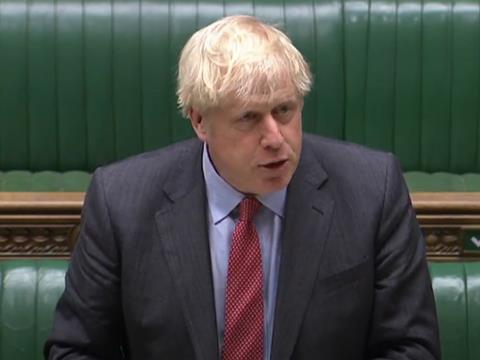 "Construction workers can go to building sites."
However construction firms' office-based staff have been told to work from home wherever possible.
Johnson did not rule out extending the furlough scheme.
The prime minister said that the restrictions announced today, which included closing pubs and restaurants at 10pm and imposing stiffer fines for breaching new rules, could be in place for up to six months "unless we palpably make progress" in bringing down covid-19 case numbers.
It is the second time that the construction sector has been spared by the restrictions urging staff to work from home during the pandemic that have crippled other sectors like hospitality, events and sports.
In March, construction sites were allowed to remain open with social distancing measures following the prime minister's announcement of the first lockdown on 23 March, which included the use of police to enforce measures forbidding people from leaving their homes unless it was to buy food or medication.
The announcement initially threw the industry into confusion after the prime minister failed to specify how the rules applied to construction sites, forcing communities and housing secretary Robert Jenrick to clarify that sites could remain open with social distancing measures.