More than 80% of Scottish apprenticeship redundancies were from within construction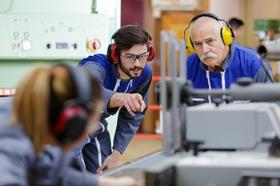 Construction apprentices are falling away at an alarming rate in Scotland, with MPs hearing redundancies among Scottish apprentices "disproportionately concentrated in the construction sector".
At a Westminster Hall debate held earlier this week, Labour MP Hugh Gaffney revealed that less than 20% of redundancies among apprentices came from outside the construction industry.
He said: "Redundancies among modern apprentices were disproportionately concentrated in the construction sector and made up 83% of all redundancies."
Gaffney, who represents the Scottish constituency of Coatbridge, Chryston and Bellshill, said Skills Development Scotland, the country's national skills agency, had confirmed that apprenticeship achievement rates had fallen by 3% in quarter two of 2018 when compared with the same period in 2017.
He said: "Achievement rates have fallen for modern apprenticeships regardless of the participants' age, but I am particularly concerned about the 4% drop among modern apprentices aged 16 to 19. Those young people are the future of our country, and we should not be letting them down in that way."
MPs said concern over both the fall away in apprenticeship starts in England and achievements in Scotland were heightened by the threat of a no-deal Brexit.
Labour's Gordon Marsden, the member for Blackpool South, said: "We know that we are entering a period of extreme uncertainty regarding our skills base because of a cocktail of challenges: Brexit, automation, the damage already done by the neglect of older as well as younger people in adult education, the dramatic fall in take-up by adult learners, and cuts to the adult skills budget.
"If we are now faced with the impending scenario of a no-deal Brexit, the need for home-grown skills is strengthened yet further."