Report says industry is battling a number of issues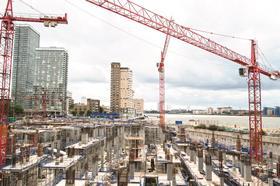 Construction's "increasingly precarious existence" has been brought to light by the collapse of Britain's second largest contractor Carillion, according to consultant Alinea.
The industry, which was already entering 2018 under "severe pressure" from skills shortages, rising input costs, doubts over long-term pipelines amidst ongoing political and economic uncertainty, is also now facing intense public scrutiny following the fire at Grenfell Tower last summer, as well as Carillion's failure, the firm reports in its latest market update.
Construction is also battling against inefficiently run projects, poor technological progress and the challenges of working in a low-margin environment, Alinea said.
"The finances of the construction sector are always a concern," Alinea added, citing Begbies Traynor's latest Red Flag Alert report, which revealed that in the last quarter of 2017 the number of construction companies in 'financial distress' grew by 31%.
And this raft of ongoing "pressures" will ensure tender prices continue to grow over the course of the next year, Alinea said.
Material costs are expected to increase again after rising 4.1% last year, driven by a 12.8% jump in the price of fabricated structural steel, with timber and concrete increasing by 6.8% and 6% respectively. The price of copper also leapt by over 20%.
And Alinea reports that the rise of construction activity in the regions is drawing in labour from the capital and putting pressure on wages, while some contractors are even returning to the historic practices of directly employing labour to ensure project delivery.
Most contractors are also reporting strong order books into 2019, but the sustained pressures from material costs and labour shortages will likely offset any discounted tendering from those still looking to secure work, the consultant said.
Contractors are also not expected to slice margins to win work as they did during the last recession. Many are not making significant profit compared to the risk that they are underwriting on construction projects and while some may trim margins, it is unlikely they will be squeezed too hard.
Therefore, Alinea is forecasting a 0%-2% tender price inflation range for 2018 based on varying sector demands, but is anticipating rebound next year across London and the South East of the country predicting 2.5% tender price growth.
This continued uptick in tender prices is also expected to make it more of a struggle for developers who are trying to make projects financially stack up.
The only way to make construction more affordable for clients, and more rewarding for contractors, is to ensure that the "whole business of building is more efficient and more effective," such as making contracts fair with balanced allocations of risk and ensuring the supply chain are paid promptly, Alinea said.