Team is appointed for Nasa-supported Blue Abyss project to build world's deepest swimming pool in Essex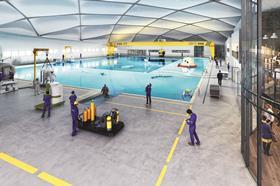 A consultant team has been appointed on a £60m project to build the world's deepest swimming pool, designed for spaceflight and human endurance research, in Essex.
The Blue Abyss project – supported by organisations including Nasa and the European Space Agency (ESA), as well as the UK's newest astronaut Tim Peake – involves building a 50m deep pool in Colchester that will simulate the microgravity of outer space and deep sea environments.
Consultants appointed include Gardiner & Theobald as cost manager, Scott Brownrigg as architect, 3PM as project manager, Pell Frischmann as structural engineer and Hoare Lea as
M&E engineer.
The Blue Abyss pool will be far deeper than Nasa's 12m deep training pool in Houston. At 50m long, 40m wide and 50m deep, it will be the world's largest by volume.
Within the complex – to be situated on the University of Essex's Colchester campus – there will be a lecture theatre and classrooms, a hyperbaric suite (decompression chamber), a "mission control" video room for pool supervision and training feedback, and an adjacent 120-bed hotel.
Commercial and recreational divers will be able to conduct training within the pool, while free-divers can test their endurance in the 50m shaft. Simulated cave systems and "shipwrecks" can also be added into the pool, as well as a flexible lighting system and lifting platforms, allowing the pool to be customised for a range of uses.
Tim Peake – who grabbed headlines last month after becoming the UK's first European Space Agency astronaut and who is currently living on the International Space Station – has previously said: "I'm very supportive of what Blue Abyss are doing and see this future facility as something that does not yet exist in Europe and that would compete with, or potentially even surpass, what is available in the US and Russia."
Other supporters of Blue Abyss include Helen Sharman, the first Briton in space, Walter Kuehnegger, one of Nasa's Apollo Lunar Exploration principle investigators and Scott Parazynski, a former Nasa astronaut.
Gardiner & Theobald partner, Chris Boyce, said: "We are very excited to be appointed on the world's first commercial 'space environment' simulation facility for aerospace research and development."