WSP's contract extended to include additional work for joint-venture partners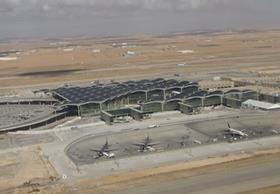 Canada-based consultant WSP and Jordan's Consolidated Consultants have been re-appointed as independent
engineers for the $800m (£524m) new passenger terminal at Queen Alia International Airport in Amman.
The firms' joint venture, named WSP + CC, has also been reappointed to provide technical advice and project-financing support for the facility at the Jordanian capital, WSP announced.
WSP said the joint venture's contract had been extended to include further work to increase capacity at the airport, and had not gone out to open competition.
WSP director Jim Ratliff said the reappointment reflected the consultancy's "increasing presence" across the aviation sector, from front-end planning to design and environmental consultancy.
WSP + CC has been providing independent engineering services at the airport since December 2007.
The terminal is being built under a Public Private Partnership agreement between the Hashemite Kingdom of Jordan and Airport International Group, the airport concessionaire.