F+G, WSP and Wilkinson Eyre lined up for work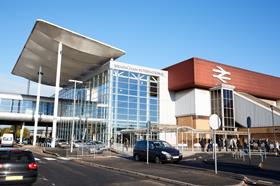 A developer owned by Solihull council has appointed several more consultants to the next phase of a £286m overhaul of Birmingham International Station which will link to a new HS2 Interchange station.
The Urban Growth Company was set up by the council to maximise economic potential in the area, which also contains the NEC, Birmingham Airport, Birmingham Business Park and a Jaguar Land Rover factory.
Solihull has already approved a feasability study and business case drawn up over 18 months by consultants Mott MacDonald and Grimshaw Architects.
But now it has appointed fresh names to move the scheme forward, with Faithful + Gould chosen as project manager and quantity surveyor for the early stages of the project.
Architect Wilkinson Eyre and lead engineer WSP, which is already working at Birmingham airport, have been chosen to review existing designs and progress them to a detailed stage.
JLL and DWF have also been appointed, to advise on commercial property and legal advice respectively.
The appointment of the team comes after the Urban Growth Company secured £9.3m from the West Midlands Combined Authority in order to progress designs.
It wants to create an "integrated transport exchange" allowing people to move seamlessly between the different terminals and bringing together existing rail, future high-speed rail, trams, buses, rapid transit, taxis, cars and bicycles.
New visualisations are expected in 2020, while construction is expected to begin in 2022 ahead of completion in 2026.
In February, the Urban Growth Company complained that HS2 Limited planned to occupy 22 acres of land around the new interchange station with car parking space – unless locals shelled out £100m to pay for a multi-storey car park which will take up much less land.
Birmingham International was opened in 1976 and is the main stop for Birmingham Airport as well as the NEC.