Paragon and Bond Davidson will be renamed Paragon this autumn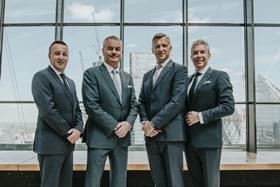 Consultants Paragon and Bond Davidson have merged to create a £22m turnover business that will be renamed Paragon later this year.
The move will see the enlarged business employ close to 200 people working out of Paragon's existing offices in London, Manchester and Edinburgh and Bond Davidson's office in Esher, Surrey.
It will be renamed Paragon in November with the business promising to look a further mergers and takeovers as it plots a growth strategy over the coming years.
The deal was brokered by Paragon's joint managing directors, John Munday and Robert Perry, and Bond Davidson managing directors, Malcolm Davidson and Matthew Dunn, who have known each other for more than 20 years.
Munday said: "We had a larger building surveying and due diligence offering whilst they had a larger project services offering. Together, we are significantly more skilled and able to advise a wider range of clients.
"Both businesses were independently considering acquisitions as part of their strategic growth plans, so the merger is perfectly timed."
Paragon was founded in London nine years ago whilst Bond Davidson was established back in 1992. The companies have respective turnovers of £14m and £8m, with Paragon employing 110 people and Bond Davidson having 80 people on its books.
The enlarged company's services now include building surveying, project management, project monitoring, quantity surveying and M&E consultancy work.
Paragan is currently working on Squire & Partners' 75-storey Landmark Pinnacle residential scheme in Canary Wharf while Bond Davidson has been working on a new headquarters and showroom for car maker Hyundai in west London.