Arcadis and Turner & Townsend among firms vying for major upgrade programme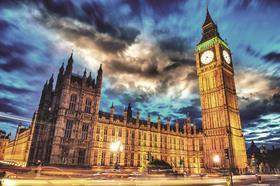 A raft of big name consultants including Arcadis and Turner & Townsend are vying for a key role on a £500m programme to redevelop several buildings in Whitehall, London, Building has learned.
The two firms – alongside a Mace and Aecom joint venture and Lendlease with subconsultant Sweett – are among those on the shortlist for the programme, project and cost management role on the revamp of a collection of buildings north of the Palace of Westminster.
The works, known as the Northern Estates Programme (NEP), are the first part of a mammoth multibillion-pound upgrade of the entire parliamentary estate, which will ultimately include the restoration of the Palace of Westminster itself, which could cost up to £6bn.
The Northern Estates buildings up for refurbishment – including Norman Shaw North, Norman Shaw South, 1 Derby Gate and 1 Parliament Street – were built between 1864 and 1906, are all listed, and are home to offices for nearly 1,000 MPs and staff.
The buildings include around 30,000m2 of space, of which at least 15,300m2 requires refurbishment.
The refurbishment works will include improving office space, fire safety, environmental performance, disability access and heating, ventilation and plumbing, as well as potentially providing temporary office space to accommodate displaced MPs and their staff.
The House of Commons says the works could begin as early as 2018 and will last around three years, costing between £286m and £511m.
But the procurement timetable for the consultant team is already behind, with the invitation to tender two months overdue, potentially putting the rest of the programme's timetable in jeopardy.
The NEP is also separately procuring engineering services and architectural and design services, with the contracts worth up to £25m each.
Meanwhile, the Parliamentary Estate Directorate is also procuring three frameworks for "business as usual" works across the entire parliamentary estate.
The three four-year frameworks include a £17m project management and cost management services framework, a £44m design services framework and a £7m building surveying services framework. It is expected that four consultants will be appointed to each of these.