Ecobuild latest: The UK Contractors Group urges the chancellor to use budget to put in place a new national retrofit plan to boost green construction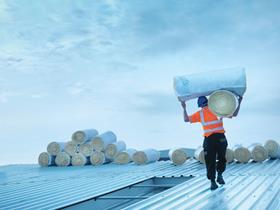 The UK Contractors Group (UKCG) has called on George Osborne to use this month's Budget to boost construction through a new plan to retrofit homes across the country.
The UKCG said that despite the upturn in housing, growth in the wider industry remained "moderate" and the chancellor should take steps to boost confidence and minimise costs on firms in his Budget statement on 19 March.
The organization, which represents the UK's largest contractors, said it wanted to see the government move to boost construction through a national retrofit plan to support energy efficiency work across housing and commercial buildings.
It also called for further progress on delivering public sector pipelines of work and a delay in the introduction of measures on tax and self-employment until January next year, arguing that the industry needs time to adapt.
The UKCG added that the chancellor could help support apprenticeships by allowing public sector clients to give greater recognition to training, alongside costs, in their assessment of project bids.
UKCG director Stephen Ratcliffe said, "Three quarters of construction work is outside private housing, and while the wider construction market is seeing positive signs, recovery will be more gradual.
"A healthy construction sector is essential to economic wellbeing - and in the Budget we will be looking to government to continue working with industry on measures to boost confidence and ensure firms have the skills to compete at home and abroad".
Meanwhile, the National Federation of Builders (NFB) this week joined calls for the government to cut VAT on home improvements from 20% to 5% to boost construction.
The call came as a report from Experian found that a VAT reduction on housing renovation and repair could boost the UK economy by more than £15bn from 2015 to 2020 and could also create more than 95,000 jobs, save 240,000 tonnes of CO2 and bring thousands of empty homes back into use.
Sameena Thompson, external affairs director of the NFB said: "More than any other measure, the single act of cutting VAT on home refurbishment to 5% would enable thousands of homeowners to improve their homes as values start to rise and equity becomes available.
"This would provide a much needed boost to thousands of builders and contractors as well as the economy, and provide a means to train the workforce to avoid a future skills gap."
In its Budget submission, the CBI called on the government to do more to boost housing supply and reduce energy costs on firms.
On housing, the CBI said that local authorities should be held accountable for setting aside five years' land supply for house builders.
It also suggested reducing taxes on institutional investors looking to invest in the private-rented sector and proposed that all public sector property holdings be listed on a central Rightmove-type website.
CBI director general John Cridland said: "We simply aren't building enough affordable housing in the UK - the government must make a concerted effort to boost supply, particularly for the private rental sector."