Knight Dragon accelerates development of Greenwich Peninsula scheme with appointment of three contractors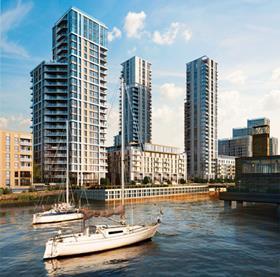 Hong Kong developer Knight Dragon is accelerating development of the £5bn Greenwich Peninsula scheme in South-east London, with the appointment of three contractors to the 500-home second phase of the scheme, worth £141m, writes Iain Withers.
Knight Dragon has appointed Wates and GB Building respectively to build out £60m and £31m plots of the second phase, called Peninsula Riverside, Building can reveal.
The news comes after Kier announced on Monday it had been appointed to a £50m plot of the scheme (pictured), comprising 224 apartments across four blocks, the tallest of which will be 24 storeys.
Paul Symons, head of project management at Knight Dragon, told Building the developer was accelerating its work on Greenwich Peninsula, which will ultimately deliver 10,000 homes. Symons said: "We'll move pretty quickly [through the phases]."
In total, Knight Dragon will create 60 development plots in Greenwich Peninsula by 2039.
Symons said the developer is fostering a partnering approach with contractors on the project, with contractors currently involved in the scheme being Kier, Wates, GB Building and VolkerFitzpatrick. Symons cited Argent's partnering approach at King's Cross with contractors Carillion, Kier and Bam as an inspiration. Symons said: "It will be very much like King's Cross. We've seen what they have done and recognise their experience and success."
But he said there could be opportunities for other contractors: "I'm not saying we're closing the books. We have the opportunity to bring in other contractors."