Catalyst Housing appointed eight firms to all six of the framework's lots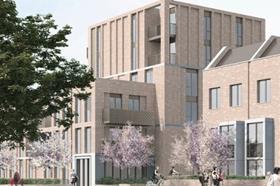 Catalyst Housing has handed 22 contractors spots on its new four-year framework.
The housing association awarded eight firms spots on all six lots of the framework, which is expected to be worth between £500m and £900m over the four years.
Galliford Try Partnerships, Durkan, Engie Regeneration, Henry Construction, Hill Partnerships, Midgard, Rydon and United Living South landed spots on each of the three value bands for both inside and outside London.
The three value bands are jobs worth less than £12m, jobs worth between £12m and £30m and projects with a value of more than £30m.
The housing association said the framework could be used to deliver up to 800 homes a year across London and the South East.
This will include the provision of affordable rented accommodation, low cost home ownerships, properties for private sale, mixed tenure schemes and some major refurbishment and regeneration works.
Last month Catalyst, alongside eight other housing associations, was chosen by London mayor Sadiq Khan to be a strategic partner to deliver his affordable housing programme.
As part of the strategic partnerships, Khan awards housing associations flexible funding conditions as part of an agreement to deliver at least 60% of new homes as affordable housing.
The housing association, which is currently developing an 80-home scheme on the site of the former Coppetts Wood Hospital (pictured) in Haringey, north London, said it had been given £22.3m to deliver 455 affordable homes in the capital.
Catalyst Housing Contractor Framework
Lot
Contractors

Lot 1 – Outside London – Under £12m

· Galliford Try Partnerships
· J Murphy & Sons
· Rydon Group
· United Living South
· Hill Partnerships
· Bugler Developments
· Henry Construction Projects
· Midgard
· Mears
· Engie Regeneration
· Durkan
· Jarvis Contracting

Lot 2 – Outside of London - £12m to £30m

· Willmott Partnership Homes
· Bouygues UK
· Galliford Try Partnerships
· J Murphy & Sons
· Rydon Group
· Higgins Construction
· Hill Partnerships
· United Living South
· Henry Construction Projects
· Bugler Developments
· Lovell Partnerships
· Wates Living Space
· Midgard
· Mears
· Durkan
· Engie Regeneration
· Jarvis Contracting

Lot 3 – Outside London - £30m-plus

· Willmott Partnership Homes
· Bouygues UK
· Galliford Try Partnerships
· Rydon Group
· Higgins Construction
· Hill Partnerships
· United Living South
· Henry Construction Projects
· Lovell Partnerships
· Wates Living Space
· Midgard
· Durkan
· Engie Regeneration
· Inland Homes

Lot 4 – Inside London – Less than £12m

· Higgins Construction
· Galliford Try Partnerships
· Kier London
· Rydon Group
· J Murphy & Sons
· United Living South
· Hill Partnerships
· Mulalley & Company
· Henry Construction Projects
· Bugler Developments
· Guildmore
· Midgard
· Engie Regeneration
· Durkan
· Rooff Limited

Lot 5 – Inside London - £12m to £30m

· Willmott Partnership Homes
· Bouygues UK
· J Murphy & Sons
· Galliford Try Partnerships
· Rydon Group
· Higgins Construction
· Kier London
· United Living South
· Mulalley & Company
· Hill Partnership
· Bugler Developments
· Henry Construction Projects
· Wates Living Space
· Lovell Partnership
· Guildmore
· Midgard
· Durkan
· Engie Regeneration

Lot 6 – Inside London - £30m-plus

· Bouygues UK
· Willmott Partnership Homes
· Mulalley & Company
· Kier London
· Higgins Construction
· United Living South
· Galliford Try Partnerships
· Hill Partnerships
· Guildmore
· Rydon Group
· Henry Construction Projects
· Wates Living Space
· Engie Regeneration
· Lovell Partnership
· Midgard
· Durkan