Lendlease, Wates and Willmott Dixon could be in frame for £60m complex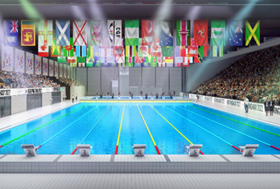 The West Midlands council behind the aquatics centre that will be used in the 2022 Commonwealth Games has put a number of firms including Lendlease and Wates on alert after saying it plans to use the Scape framework to pick a contractor for the £60m scheme.
In council minutes, Sandwell council says its plans to use the framework to build the centre at Londonderry Playing Fields in Smethwick.
Last year, Scape announced the winners on its new four year framework which runs out at the end of May 2021.
Lendlease landed the UK-wide lot covering the largest projects worth £50m-plus, while Wates won the lot covering the next tier of projects down, worth between £10m-£50m.
Willmott Dixon won two regional lots, including England, with each regional lot covering work worth between £2m and £20m.
A joint venture between Gleeds, Aecom and Pick Everard won Scape's £350m consultancy framework back in 2016 while Scape relaunched its design arm as an architecture practice, named Lungfish, a couple of years ago.
Council leader Steve Eling said: "There's a lot of excitement building around the Commonwealth Games [and] we're very proud to be part of it and to be hosting the swimming and diving events here in Sandwell. The benefits to the local economy will be huge and the eyes of the world will be on Sandwell."
The council has pledged £27.6m to the new centre, while the remainder of the £60m will be met by various groups, including the Commonwealth Games Organising Committee and Black Country Local Enterprise Partnership.
The complex will stage the swimming and diving competitions for the event which is being hosted in nearby Birmingham. It will feature an Olympic-sized competition swimming pool, a 25m diving pool, plus 5,000 spectator seats.
The centre, which will be run by Sandwell Leisure Trust, will also include two activity studios, a 12-court sports hall, a gym, a ladies-only gym, an indoor cycling studio, a sauna and a cafe.
The centre will also include green space and play facilities.