Firms including Balfour Beatty, Laing O'Rourke and Sir Robert McAlpine also agree to put £230k into training fund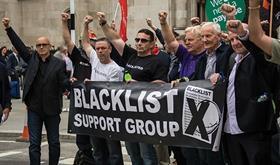 Seven contractors have agreed to pay more than 50 workers close to £36,000 each in compensation after Unite settled its case against firms who blacklisted workers.
Balfour Beatty, Costain, Kier, Laing O'Rourke, Sir Robert McAlpine, Skanska UK and Vinci have all reached an agreement with the union which will see them shell out £1.9m in compensation to 53 workers.
The contractors have also agreed to put £230,000 into a training fund, which will be administered by Unite, for all victims of blacklisting who have brought proceedings.
Unite assistant general secretary Howard Beckett said: "The creation of a training fund controlled by Unite is a huge breakthrough and is to be welcomed as it will allow the union to assist victims of blacklisting return to employment."
The seven contractors have said they will aim to work at national, regional and site level to ensure that the modern UK construction sector provides the highest standards of employment and HR practice.
"The blacklisting construction companies' promised public statement is welcome about their future good behaviour and a new relationship with unions," added Beckett.
The latest court case follows the 2016 court action which resulted in Unite securing £19.34m for 412 blacklisted workers.