Civils work on the UK's first nuclear power plant in a generation could start as early as December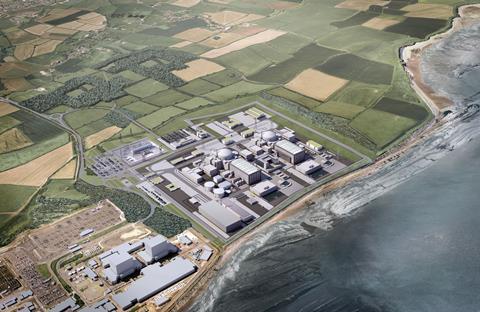 Main construction work on the UK's first nuclear power plant in a generation could begin as early as December, Building can reveal.
Contractors delivering the civils packages on EDF's £16bn Hinkley Point C nuclear power plant project are being told to prepare to start on site in December this year, according to market sources.
The news comes as the European Commission (EC) announced it was set to approve a deal between the developer and the UK government on how the project will be funded.
Building understands firms appointed to the project are being told the developer will make a "broad" final investment decision in November, after the project receives approval from the EC, which is expected next month.
Sources close to the project said firms building the plant were being told to prepare to start on site in the South-west in December.
Preparatory work on the site has been ramping up this month and will continue to increase in the run-up to December.
Firms appointed to various roles on the mega-project include Laing O'Rourke, Bouygues, Costain, Kier, Bam Nuttall and Dean & Dyball, a subsidiary of Balfour Beatty.
On Monday it emerged that the EC is set to give EDF's deal with the government to fund the project the green light next month.
The UK government and EDF's deal, called a "contract for difference", was agreed last October and guarantees that EDF will be paid £92.60/MWh for the electricity from the plant for 35 years, which is roughly twice the current wholesale price of power.
But the project has been stuck in limbo after the deal was referred to the EC to check it complied with state aid rules in December.
The EC initially produced a report in January which was highly critical of the deal, calling into question whether it was really necessary. The report also said the whole contract for difference system risked "crowding out" investment in renewable energy projects. However, an EC spokesperson said this week that the Competition Commission will likely to approve the plans.
A spokesperson for Joaquín Almunia, the EU Competition Commissioner, said this week that the "discussions with the UK authorities" had "led to an agreement".
He added: "On this basis, vice president Almunia will propose to the College of Commissioners to take a positive decision in this case. In principle a decision should be taken within this mandate."
A spokesperson for EDF, said Almunia's decision to recommend the project for approval was "another positive step forward".
He added: "The state aid investigation has been rigorous, robust and thorough, and we expect that the College of Commissioners will recognise this."
EDF declined to comment on when work would start on site.